Weekly Smoothie Challenge
Creamy Avocado and Apple Smoothie Featuring Maca Powder
2 Servings
This smoothie recipe pairs green apple and refreshing kiwifruit with creamy avocado and orange juice to create a luscious and nutrient-packed smoothie. Maca powder, made from the nutritious root of a Peruvian plant commonly known as maca, is used to further improve the nutritional profile of this creamy concoction.
The substitute suggestions in the Tweak It! section at the bottom of this page ensure that with small tweaks to the basic recipe, you can create a completely new culinary sensation for every day of the week!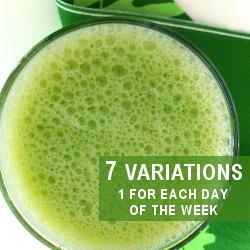 Ingredients
1 medium-sized avocado
1 organic Granny Smith apple
1 kiwi
1 Tbsp maca powder (available from Amazon.com here)
1/2 cup crushed ice
1 1/2 cups organic apple juice
Directions
Peel and pit the avocado, then wash, core and dice the apple. Peel the kiwi, if using. If you're using another fruit from the Tweak it! box below to replace the kiwi, peel, pit and wash the fruit as needed.
Place the avocado, diced apple, kiwi (or the substitute ingredient), maca powder, and crushed ice in a large-capacity blender, and pour the apple juice over them. Secure the lid, and blend until smooth and creamy, about 1 minute.
Remove the lid, and check the consistency of the smoothie. If it is too thick for your liking, add a little bit of water, replace the lid, and blend a few more seconds. Pour into glasses and serve immediately.
Tweak It!
Day 1
Day 2
Day 3
Day 4
Day 5
Day 6
Day 7
1
kiwi
Half an
orange
Half a
pear
1
mandarine
2.5 oz
groundcherries
1/2 cup
fresh lychees
2.5 oz
fresh pineapple