Easy Vegan Spinach Smoothie
Yields about 3.5 cups
Making green smoothies is one of the easiest – and healthiest – ways to use baby spinach. In this beautiful green vegan smoothie, nutrient-packed baby spinach is mixed with an organic Granny Smith apple and a ripe banana which add sweetness and texture to the blend. And, as you will be using a frozen banana instead of a fresh one, you won't have to add ice cubes or crushed ice!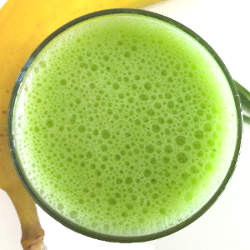 Ingredients
1 organic Granny Smith apple, rinsed
1 ripe banana, peeled, sliced and frozen
2 cups baby spinach, rinsed
1 cup (or more) cold water
Directions
Break the apple into large chunks, and place the chunks in a high-powered blender, together with the rest of the ingredients. Blend thoroughly.
Check the consistency. If the smoothie is too thick to your liking, add a bit more water, and blend again.
Don't Miss This

Meet Yonanas Classic 902, The Healthy Frozen Dessert Maker
Meet the gadget that turns frozen fruit into healthy, 100% fruit-based mock ice cream.
More to Explore
Book You May Like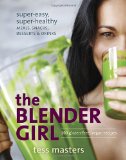 In her much-anticipated debut cookbook
The Blender Girl
, blogger and recipe developer Tess Masters serves up a collection of inspiring recipes for vegan smoothies and meals that can be made quickly and easily in a blender. Not only are all the recipes in this visually stunning cookbook vegan, they are also gluten-free. What's more, many of the recipes are also soy-, corn- and sugar-free. To order a copy of this beautiful book, head to
Amazon.com
,
Amazon.co.uk
or
Amazon.ca
.