Fennel and Orange Salad With Fennel Fronds
Yield: Serves 4
This vegan salad pairs crunchy fennel with crispy lettuce and juicy oranges. A quick garnish with fennel fronds and you have a beautiful salad that can also help keep your skin smooth and wrinkle-free. The oranges in this salad deliver plenty of vitamin C which helps promote healthy collagen production; the fennel in this salad is packed with fiber, folate, and vitamin C.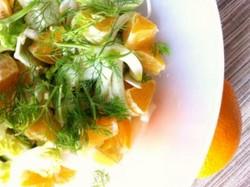 Ingredients
3 Tbsp extra-virgin olive oil
1 Tbsp white wine vinegar
200 g (7 oz) lettuce, shredded
1 large head fennel, thinly sliced
2 large oranges, cut into bite-sized pieces
Fennel fronds for garnish
Directions
Whisk together the olive oil and vinegar in a large salad bowl. Add the shredded lettuce, sliced fennel, and oranges. Toss well.
Garnish with fennel fronds and serve immediately.