Flourless Raspberry and Coconut Muffins (Paleo-Friendly)
Makes 8 muffins
These flourless raspberry muffins featuring finely ground unblanched almonds and coconut flakes are a dream if you're going gluten-free, but this recipe is also perfect for anyone looking for a recipe for low glycemic, not overly-sweet muffins that are high in protein, fiber and nutrients. And, as these Raspberry Coconut Muffins are free from wheat flour, chemical leavening agents and processed sugar, they are also a good option for people who follow the Paleo Diet.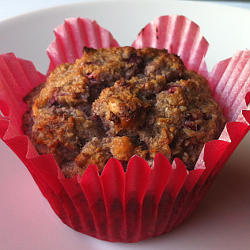 As these Paleo-friendly Raspberry and Coconut Muffins contain no table sugar or other highly processed sweeteners, you'll want to use use overripe bananas, rather than unripe or ripe bananas, for this recipe. Overripe bananas boast an extra-sweet flavor that, together with the honey this recipe calls for, add plenty of sweetness to these all-natural healthy muffins. As the bananas you find in the supermarkets are usually unripe or just ripe, you might have to buy the bananas for this recipe a few days in advance. Then, let the fruit ripen on the countertop until their skins start to darken – a sign that they are extra-sweet and overripe!
When making these flourless, gluten-free, Paleo-friendly muffins, it is important that you handle the eggs right, or you may end up with a batch of hard, unappetizing muffins. As this recipe uses no baking soda, or any other chemical leaving agent for that matter, you'll have to separate the egg whites and yolks, and then whip the whites into a light, airy foam before adding them into the batter. Before whipping the egg whites, make sure the bowl is completely clean and dry – even a drop of liquid or egg yolk in the bowl can prevent the whites from turning into an airy foam.
Ingredients
3 eggs
2 overripe bananas, peeled
4 ounces (110 grams) unblanched almond meal
3 ounces (85 grams) coconut flakes
2 Tbsp coconut oil
2 Tbsp honey
½ tsp cinnamon
5 ½ ounces (155 grams) raspberries, rinsed
Directions
Separate the yolks from the whites into two different mixing bowls.
In the bowl with the yolks, add the overripe bananas, almond meal, coconut flakes, coconut oil, honey and cinnamon, and combine into a smooth batter using a fork. Gently mix in the raspberries.
In the other mixing bowl, whisk the egg whites until they turn into fluffy white peaks. Carefully fold the egg white foam into the muffin batter using a rubber spatula.
When you are done folding the egg white foam and batter together, spoon the mixture into into a muffin tin lined with paper liners. Bake in a pre-heated oven at 350°F (Gas Mark 4, or 175°C) for about 25 to 35 minutes, until a toothpick comes out clean.
Serve warm or at room temperature.
Book You May Like

Looking for a
cookbook dedicated to coconut flour recipes
? In
The Healthy Coconut Flour Cookbook
, recipe developer Erica Kerwien delivers more than 100 healthy gluten-free recipes for muffins, breads, cakes, cookies, savory bites and more. To accommodate people on special diets, this cookbook also includes an icon guide to help you identify recipes that are Paleo-friendly, grain-free, gluten-free, dairy-free, nut-free and low-sugar. Available from
Amazon.com
,
Amazon.co.uk
and
Amazon.ca
.
Sponsored Links / Ads