Green Smoothie with Kale and Spinach
Serves 2
Shake up your smoothie routine with this gorgeous green concoction! This drink is perfect for those who are new to green smoothies since this recipe calls for baby spinach and baby kale which are milder in flavor than mature greens. The banana and frozen mango lend sweetness and creamy texture to this luscious green drink.
Tip: For this blend and green smoothies in general, use ripe bananas rather than unripe ones—ripe bananas are much sweeter and more flavorful than their unripe counterparts, plus they are easier to digest.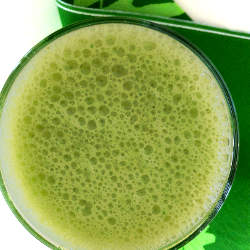 Ingredients
1 ½ cups filtered water
1 cup frozen mango chunks
1 ripe banana, peeled and sliced
¾ cup fresh baby kale leaves, rinsed
¾ cup fresh baby spinach leaves, rinsed
Directions
Let the mango chunks thaw for a few minutes.
Place all the ingredients in a high-powered blender in the order listed above. Blend until smooth.
Check the consistency of the drink. If necessary, add a bit more water and blend again. Serve immediately.
Book You May Like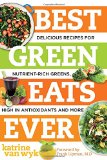 If you're trying to eat more greens but find yourself in a salad rut, be sure to check out Katrine van Wyk's
Best Green Eats Ever
. In this beautifully illustrated cookbook, the model turned nutrition coach shows you how to use healthy leafy greens in everything from snacks, like Brussels sprouts chips, to sauces and dips like green hummus and dandelion pesto. The book even has a section dedicated to green treats to keep your sweet tooth satisfied! To take a peek inside the book, or to order your copy, visit:

Amazon.com

Amazon.co.uk

Amazon.ca
Sponsored Links / Ads
More to Explore