Low-Calorie Smoothie Featuring Omega-3 Rich Chia Seeds
Makes 2 servings
All of the key ingredients in this smoothie—the papaya, apple and strawberries—should be among your top choices if you are looking to enhance your diet with low-calorie fruits (each of these fruits delivers fewer than 50 calories per 100 grams). And, as this recipe uses water, rather than fruit juice or yogurt, you won't have to worry about the liquid base adding any extra calories to the mix.
In addition to papaya, apple and frozen strawberries, this yummy smoothie also features chia seeds which may help promote satiety and which are often marketed as a natural weight loss aid, although the weight loss claims made about chia seeds are largely based on animal studies, and not on clinical trials involving humans. If you local grocery store does not sell chia seeds, look for them in the health food stores in your area, or buy organic chia seeds online.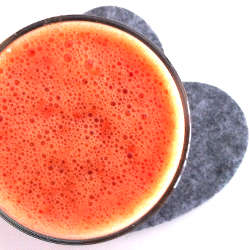 Ingredients
1 ⅔ cups water (approx.)
1 cup diced papaya
1 apple, rinsed, cored and diced
8 frozen strawberries
1 Tbsp chia seeds
Directions
Start by adding 1 ⅔ cups to a large-capacity blender, followed by the papaya, apple, strawberries and chia seeds.
Process until smooth and creamy, adding more water as needed to achieve the desired consistency.
Pour equally into two glasses, and serve immediately.
Don't Miss This

10 Tips on How to Shop Healthy on Low Budget
A tight household budget does not mean that we have to sacrifice our health goals.
More from HealWithFood.org
Book You May Like

If you are looking for an easy-to-use low calorie cookbook, be sure to check out the
Mix & Match Low-Calorie Cookbook
from the Editors of
Cooking Light
, America's leading epicurean magazine and authority on healthy cooking. This extraordinary cookbook provides four categories of recipes – breakfast, lunch, dinner, and snacks – and if you pick one from each category, plus an extra snack, your total calories for the day will always be 1500 calories or less. The book also includes options for increasing the portions in case you need more than 1500 calories a day. Available from
Amazon.com
,
Amazon.co.uk
&
Amazon.ca
.