Weekly Smoothie Challenge
Milky Raspberry and Banana Smoothie
2 Servings
It doesn't always have to be complicated to be delicious. This super-easy smoothie has only four ingredients: organic whole-fat milk, banana, frozen raspberries and orange. To keep things interesting, you can tweak the basic recipe by replacing the orange with one of the other ingredients provided in the Tweak It! box at the bottom of this page. The Tweak It! box contains seven ingredients, one for each day of the week.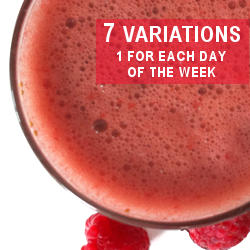 Ingredients
1 small organic banana
1 1/2 cups frozen organic raspberries
1 small orange
1 1/2 cups organic whole-fat milk
Directions
Peel the banana and orange, and break them into a few large pieces so that they fit in your blender. Place the frozen raspberries in a sieve and rinse under cold running water.
Put the solid ingredients in a large-capacity blender, then add the milk.
Secure the lid, and blend until smooth and creamy.
Remove the lid, and check the consistency. If the smoothie is too thick for your taste, add a little water, replace the lid, and blend for a few more seconds. Pour the drink into glasses, and serve immediately.
Tweak It!: Enjoy a slightly different version of this Milky Raspberry and Banana Smoothie every day the rest of the week by each day replacing the orange in the original recipe with one of the other ingredients listed below.
Tweak It!
Day 1
Day 2
Day 3
Day 4
Day 5
Day 6
Day 7
1
orange
1
apple
1
pear
1
blood orange
2
mandarines
5 oz
ground cherries
5 oz
fresh pineapple