Weekly Smoothie Challenge
Quinoa, Banana and Guava Smoothie
2 Servings
You're just five minutes, a blender, and a few healthy ingredients away from a delicious, nutrient-packed smoothie. This smoothie recipe pairs quinoa with bananas and oranges to create a creamy, filling smoothie that will keep you going for hours! The guava nectar and camu-camu powder are added to the mix for an extra vitamin C kick.
The basic recipe below calls for a fresh orange, but if you're planning to treat yourself to a quinoa, banana and guava smoothie on several days this week, you may want substitute another fruit for the orange on some of those days to keep it interesting. Use the Tweak It! section at the bottom of this page for inspiration.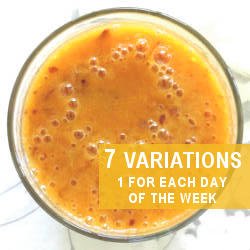 Directions
Peel the banana and orange, and break them into a few large pieces. Place them in a large-capacity blender, along with the cooked and cooled quinoa, camu-camu powder, crushed ice, and guava nectar.
Secure the lid, and turn the blender on. Slowly increase the speed. Blend at full speed until smooth and creamy, about 1 minute.
Remove the lid, and check the consistency. If the smoothie is too thick for your liking, pour in some additional water, replace the lid, and blend on high for a few more seconds. Pour the smoothie into glasses and serve immediately.
Tweak It!: Enjoy a slightly different version of this Quinoa, Banana and Guava Smoothie every day the rest of the week by each day replacing the orange in the original recipe with one of the other ingredients listed below.
Tweak It!
Day 1
Day 2
Day 3
Day 4
Day 5
Day 6
Day 7
1
orange
5 oz
fresh pineapple
5 oz
papaya
1
apple
1
pear
5 oz
kumquats
2
mandarines