Radicchio, Tomato and Cress Salad
Serves 2
This low-calorie recipe combines crisp radicchio, cress, and romaine lettuce with refreshing cucumber, celery, and tomatoes to create a super-healthy salad that is packed with nutrients and phytochemicals.
Radicchio, for example, contains anthocyanins, the same plant pigments that give blueberries their famous health benefits. Garden cress in turn contains the same health-protecting glucosinolates that have made vegetables like kale and broccoli famous.
And celery? This crunchy, low-calorie vegetable is known to contain at least eight families of cancer-combating compounds. But be sure to use organically-grown celery – conventionally-grown celery typically contains high levels of pesticides and fungicides, including chlorothalonil which is believed to be carcinogenic.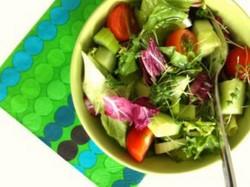 Ingredients
60 g (1 ½ cups) shredded radicchio
120 g (3 cups) shredded Romaine
10 cherry tomatoes (170 g), halved
2 large stalks celery (130 g), sliced
60 g (2 oz) unpeeled cucumber, diced
40 g (1.4 oz) garden cress, trimmed
2 tsp extra virgin olive oil
2 tsp vinegar
Directions
Place the radicchio, romaine, cherry tomatoes, celery and cucumber in a large bowl. Toss well.
Add the olive oil and vinegar to the salad mix and toss again lightly.
Serve immediately.

Nutritional Information
Nutrition facts for this Radicchio, Tomato and Watercress Salad are provided per 100 grams, per recipe (598 grams), and per portion (299 grams or 10.5 oz) in the table below. The Percent Daily Values are provided in brackets.
Per 100 g
Per Recipe
Per Portion
Comment
Energy in kcal
30 (2%)
180 (9%)

90

(5%)
Low calorie meal
Protein in g
1 (2%)
6 (12%)
3 (6%)
NA
Total Fat in g
2 (2%)
9 (15%)
5 (7%)
Low in fat
Saturated Fat in g
0 (1%)
1.2 (6%)
0.6 (3%)
NA
Carbohydrates in g
4 (1%)
22 (7%)
11 (4%)
NA
Fiber in g
1 (5%)
8 (32%)
4 (16%)
Excellent source of fiber
Sodium in mg
24 (1%)
143 (6%)
71 (3%)
Low sodium; most sodium from celery
Cholesterol in mg
0 (0%)
0 (0%)
0 (0%)
Cholesterol free
Nutrition facts for recipes on healwithfood.org are primarily based on nutritional data provided by USDA SR-21. Percent Daily Values or %DV, indicated in brackets in the table above, are based on recommendations for a 2000 calorie reference diet. Your daily values may be different depending on your individual needs.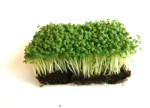 Did you know?
Garden cress is one of the easiest vegetables to grow — and you don't even need a garden for that! Garden cress can be grown indoors year-round. All you need is a small pot or tray, cress seeds and some paper towels or soil. For details, see the article
How to Grow Garden Cress Indoors
.