Recipe
Risotto with Crimini Mushrooms and Arugula
Serves 3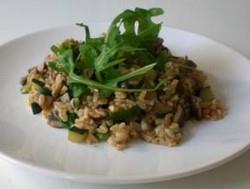 Ingredients
2/4 lb crimini mushrooms, cleaned, stemmed, diced
1/4 lb zucchini, diced
4 tbsp olive oil
1/4 cups white wine
1 onion, finely chopped
1 2/3 cups long grain brown rice, uncooked
4 cups low-sodium chicken broth (plus water, if needed)
3 tbsp parsley, minced
1 garlic clove, minced
1/4 cup parmesan cheese, grated
Salt and pepper
Plenty of arugula (rocket salad)
Directions
Heat 1 tablespoons olive oil in a large saucepan. Add mushrooms and zucchini and season with salt and pepper. Cook, constantly stirring, for a few minutes until mushrooms and zucchini soften. Transfer to a plate and set aside.
Using same saucepan, heat another 1 tablespoon olive oil and add finely chopped onion. Sauté until onions are translucent. Add rice and cook for a few minutes, constantly stirring. Add wine to mixture and cook until wine has evaporated, about 4 minutes.
Add half a cup of broth. Cook, stirring occasionally, until almost all broth has evaporated. Add another half a cup of broth each time liquid is absorbed until all broth is used and rice is almost cooked (use water if you run out of broth before rice is almost cooked). Add mushrooms, zucchini, garlic, and parsley. Stir in remaining 1 tablespoon olive oil. Add parmesan and salt and pepper to taste.
Transfer to serving plates and garnish with plenty of arugula. Serve immediately.