Whole Wheat Brownies
These brownies are full of flavor, and this whole wheat recipe is a healthy alternative to many other brownie recipes.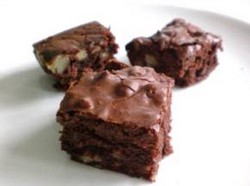 Ingredients
3 tbsp low-sodium butter
1/2 cup brown rice syrup
10 tbsp dark cocoa powder, unsweetened
1 tsp vanilla
2 eggs
1/2 cup whole wheat flour
1/2 cup pecans, chopped
Directions
In a medium saucepan, melt butter over low heat. Stir in brown rice syrup, and whisk in cocoa powder. Continue whisking until well blended.
Remove from heat and blend in eggs.
Add in vanilla, whole wheat flour, and pecans, and stir well.
Lightly grease 8x8-inch baking pan and pour in batter. Bake for 30 minutes or until a toothpick comes out clean.
Let cool, and cut into squares. Serve.
Did you know?
Dark cocoa powder, which is what this recipe calls for, is typically rich in flavonoids, such as catechins and procyanidins, which have strong antioxidant properties. However, research suggests that consuming milk or dairy products such as ice cream together with cocoa may inhibit the absorption of flavonoids from cocoa.