Breville Soup Maker and Blender in One (VBL060)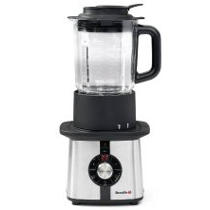 Breville's VBL060 Soupmaker, available from Amazon.co.uk here
Create healthy hot soups from start to finish or blend up refreshing smoothie in Breville's innovative – and versatile – blender. This automatic soup maker and blender features a small non-stick cooking plate for easy sautéing right in the blender, but the walls of the blending jug are made of durable glass. To learn more about this ingenious kitchen companion, keep reading.
Piping Hot Soup from Scratch in 20 Minutes
In just 20 minutes, the Breville VBL060 turns your favorite soup ingredients into delicious hot soup, however smooth or chunky you like it. It handles the entire process, from sautéing to blending, without you having to worry about your soup boiling over or your kitchen turning into a mess (a drawback of using a hand blender). What's more, unlike many other electric soup makers available in the UK, the Breville VBL060 lets you choose from three heat settings: low, high and simmer/sauté. To see the Breville VBL060 soupmaker in action, click on "Video" in the image thumbnails section located on the left side of this page.
Great for Making Cold Smoothies, Shakes, Dressings – and More!
Not only does this ingenious contraption make hot soups in minutes, it is also perfect for blending cold ingredients into smoothies, milkshakes, salad dressings, fresh fruit compotes, and more! And, thanks to its 600-Watt motor and razor-sharp blades, this kitchen workhorse can even crush ice cubes!
Features at a Glance
Makes soup in 20 minutes
Three heat settings: low, high and sauté/simmer
Crushes ice
1.75 litre jug made from durable and heat-resistant borosilicate glass
1.65 litre capacity for cold drinks, 1.40 litre capacity for soups
Non-stick cooking plate to fry and sauté onions, garlic, etc.
600 Watt motor and 1000 Watt heating element
Dishwasher safe jug and lid
Keep-warm function
Leak-proof lid for safe and mess-free blending
Drawbacks and Shortcomings
Perhaps the most controversial feature of this soup maker is the non-stick cooking plate. On one hand, it allows you to fry and saute ingredients without having to worry about the food sticking to the bottom. On the other hand, the fact that the food comes in contact with non-stick coating may put off consumers who are concerned about chemicals in such coatings. The good news is that the non-stick surface is rather small, which – of course – can also be seen as a drawback if you like the idea of sautéing your veggies on a non-stick cooking plate.
Order it Online and Have it Shipped to Your Home
So you've decided to get the Breville VBL060 soup maker? As mentioned in the user reviews on Amazon, this machine is rather big and heavy, so you may want to buy your Breville soup maker from a supplier that can have it shipped directly to your home. To order it through Amazon's UK site, click here.