Product Review
Watermelon Pop Cutter Turns Fruit into Popsicle Shapes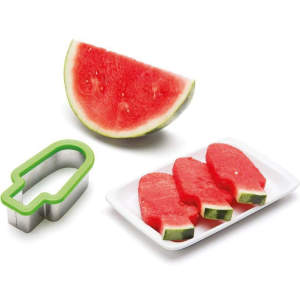 Meet your new favorite kitchen gadget for cutting melons like watermelon, honeydew and cantaloupe: the watermelon popsicle shape cutter! This nifty tool looks like a cookie cutter, but instead of using it for making cookies, you use it for transforming boring watermelon slices into attractive popsicle shapes. The watermelon pops created with this quirky gadget are perfect for kids as well as adults who want to add a touch of fun to eating fruit. This fruit slicer is also a great addition to your arsenal of healthy kitchen gadgets because it encourages you and your kids to eat more pure, unprocessed fruit.
Are you planning a party or got a potluck party coming up? Serving watermelon slices cut into popsicle shapes is also a great way to impress people at summer-themed parties and picnics. Even if the hot days of summer are long gone, you can bring a touch of summer to any party with the watermelon pop cutter.
What's also great is that by transforming watermelon slices into popsicle shapes with the watermelon pop cutter means you won't have to buy those wooden popsicle sticks that you would normally stick into watermelon slices when serving them as watermelon pops. In fact, if you make watermelon pops on a regular basis, you may well end up saving money by buying a watermelon pop cutter simply because you won't have to buy those sticks.
Finally, cutting out popsicle-shaped slices of melon with the watermelon pop cutter can be a fun activity you can do together with your kids. Just keep in mind that this gadget is not a toy, and its sharp edges can hurt little fingers, so you shouldn't let small children use the cutter alone.
Ready to start turning boring watermelon slices into fun popsicle shapes? You can buy the watermelon pop cutter through Amazon with just a few clicks!
Disclosure: This page contains affiliate links. This means that, at no additional cost to you, the author of this article may earn a small commission if you make a purchase through those links.
* * *