How to Make Watermelon Pops
Yield: 24 pops
Make eating a slice of watermelon more fun and less messy by inserting a popsicle stick into the rind. Or, use a watermelon pop cutter to turn watermelon slices into cute popsicle shapes.
Here's a great, easy idea on what to do with a watermelon if you are not a fan of complicated recipes: serve watermelon slices on popsicle sticks! Cutting watermelon into triangular shapes and serving the triangles on popsicle sticks is a simple yet exciting way to serve watermelon, and you won't have to worry about sticky fingers! It is also a great way to get your kids to eat more healthy low-calorie fruits.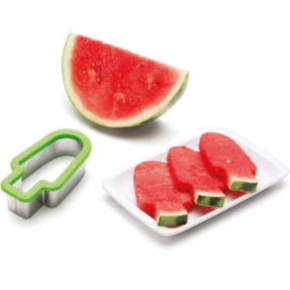 After making your watermelon pops, you can serve them right away, or you can pop them into the freezer (and yes, you can freeze watermelon!) and serve them later. Watermelon ice pops are the perfect healthy alternative to packaged frozen popsicles when it's hot outside and you need a little refreshing treat!
Below, we provide step-by-step instructions on how to make watermelon pops. You won't be needing any special equipment, apart from popsicle sticks. However, if you plan to make watermelon pops on a regular basis, you might want to buy a watermelon pop cutter, a nifty little tool designed to turn sliced watermelon into attractive popsicle shapes. The great thing about this little gadget is that you will no longer need to buy those wooden popsicle sticks when you make watermelon pops at home.
Recipe for Watermelon Pops
Ingredients
Watermelon
Popsicle sticks
Instructions
Cut the middle part of a watermelon into round, 3/4-inch thick slices.
With a sharp knife, cut the rounds into triangles and make a small slit in the rind on each triangle; then slide a popsicle stick in each slit. Or, if you are using a watermelon pop cutter, simply press the cutter right on top of the sliced watermelon and apply pressure to cut it into shape. Repeat this step to get as many popsicle-shaped slices as possible.
Serve the watermelon pops right away, of put them in the freezer if you prefer a frozen treat. To freeze the pops, arrange them in a single layer on a cookie sheet lined with parchment paper, and pop them in the freezer.