Meet the Hottest Kitchen Space-Saver:
Flat Pot-Top Strainer Made of Stainless Steel
Sometimes the smallest kitchen accessories are the most useful. So is the case with flat stainless steel pot strainers, the slim but ingenious strainers that allow you to drain and strain pasta, vegetables, berries and other foods without a bulky colander or sieve that can take up a lot of kitchen space! With a flat strainer, all you have to do is hold the strainer in place over the top of the pot and tilt the whole thing over a sink, and excess liquid will pour right out through the holes. And, once you are done draining or rinsing food, you can simply pop this slim thing into the dishwasher – provided, of course, that you have one of the high-quality stainless steel strainers or another model that's dishwasher-safe.
Aside from saving kitchen space, flat pot-top strainers are also much more hygienic than colanders that sit in the sink. When you use a traditional colander that sits in the sink, there's always the risk that the water may back up or not drain fast enough, and thus come in contact the food. And, as most sinks are teeming with nasty bacteria, you run the risk of contaminating your food and getting your family sick. A flat strainer allows you to drain your pasta and vegetables while keeping them in the cooking pot, or any other bowl of your choice, so there won't be any sink-to-food contact.
They Come in Many Sizes and Designs, including Stainless Steel
Today, it is relatively easy to find good flat pot strainers, especially if you don't mind shopping online. These space-saving strainers come in several sizes and a number of designs, including all-stainless steel models. The great thing about getting a flat pot strainer made of stainless steel, rather than plastic, is that you'll never have to worry about chemicals like BPA (Bisphenol-A) tainting the food, even when draining hot water right after boiling pasta or vegetables. Below, we take a look at two metal pot strainers, both of which have received lots of great reviews on Amazon.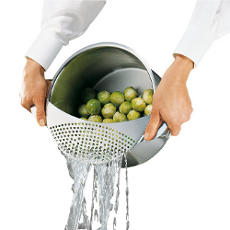 Kuchenprofi's Pot-Top Strainer with Two Handles
Kuchenprofi's 13-inch wide pot strainer has all the earmarks of a good flat metal strainer. First, it's made of grade 18/10 stainless steel, a type of sturdy stainless steel that is often used in cutlery and high-quality cookware. Second, it's dishwasher-safe, so clean-up is a breeze, too. This ingenious contraption has also received a lot of good reviews on Amazon, and it seems to fit almost any standard pot that's around 10 inches in diameter, or that has a capacity of 2 to 6 quarts.

Buy it on Amazon.com

Buy it on Amazon.co.uk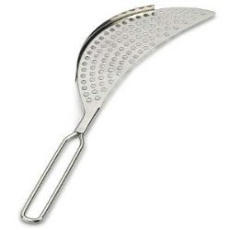 RSVP's All-Stainless Steel Crescent-Shaped Pot Strainer
RSVP International Inc. is a manufacturer of high-quality kitchenware that manufactures everything from non-plastic drinking straws to stainless steel strainers under its Endurance brand. For those looking a space-saving all-stainless steel pot strainer with a single handle, RSVP's crescent-shaped pot strainer may be the ideal choice. Made of sturdy stainless steel, it is dishwasher-safe, and the new improved design allows both left- and right-handed cooks to use the tool.

Buy it on Amazon.com

Buy it on Amazon.co.uk

Looking for a similar product in Canada?
Check out the strainers available on
Amazon.ca
.
Sponsored Links / Ads
Don't Miss This

Meet Camp Chef's Sturdy Cast Iron Pie Pan
Cast iron is not just for pots and pans – it is also used to make sturdy and durable pie pans!
More to Explore