In the Spotlight:
Metal Ice Cube Tray Made with Stainless Steel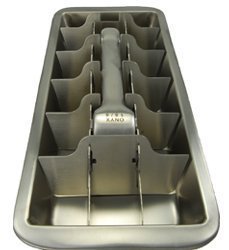 If you're on the lookout for a non-plastic ice cube tray, you should definitely check out Onyx' 18/8 stainless steel ice cube tray (pictured on the right). Manufactured by Onyx Containers, this old-fashioned metal ice cube tray might remind you of the one your parents or grandparents used to freeze water with back in the fifties – but it is made of stainless steel instead of aluminum.
Disclosure: This page contains affiliate links. By making purchases through these links, you are supporting HealWithFood.org.
Onyx' Stainless Steel Ice Cube Tray
Not only is this beautiful tray perfect for a retro kitchen, it also offers a number of benefits over the cheap plastic molds you can now find everywhere as well as the old-fashioned aluminum ice cube trays that were popular in the fifties:
First, it is made of 18/8 stainless steel, the same metal that is used to make pans and other sturdy kitchen tools and that is considered one of the safest materials for kitchenware that come in contact with food. Like other products made of food-grade stainless steel, this ice cube tray does not contain BPA (bisphenol-A), phthalates, PTFE (polytetrafluoroethylene), or PFOA (perfluorooctanoic acid). BPA and phthalates are controversial chemicals that may leach into foods and liquids from plastic containers, while PTFA and PFOA – which are often used to manufacture traditional Teflon cookware – have raised concerns over the safety of non-stick cookware when not handled properly.
Note: In 2012, the U.S. Food and Drug Administration (FDA) banned the use of BPA in baby bottles and children's cups, but the ban was not extended to other products.
Products made of food grade stainless steel are also considered safer than traditional aluminum kitchenware. Aluminum cookware has been around for a long time, but in the sixties, experts began questioning the safety of cookware made with this silvery-white metal. Today, you may still be able to find old-school aluminum pots and pans, especially in vintage and second-hand stores and even in regular stores (depending on where you live), but if you want to be on the safer side, choose a product made with stainless steel.
How to Get the Most Out of Your Metal Ice Cube Tray
As with all kitchen tools, a stainless steel ice cube tray does not come without its share of disadvantages. For one thing, stainless steel is not exactly the cheapest metal, which means that an ice cube tray made with it may carry significantly higher price tag than a similar product made with plastic. What's more, metal ice cube trays are rather rigid compared with silicon ice cube molds, and getting the cubes out of the tray make require some effort. Here are a few tips that should help you get the ice cubes out of your Onyx stainless steel ice cube tray with minimal effort:
Don't overfill the tray (keep the water level below the rivets that hold the lever in place).
After taking it out of the freezer, let the tray sit at room temperature for a couple of minutes before releasing the cubes
Pull the lever that comes with your Onyx' stainless steel ice cube tray to free the cubes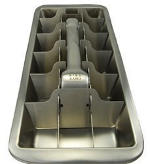 Where to Buy One in the US, Canada or the UK
Ice cube trays made with food grade stainless steel are perfect for freezing small portions of food – homemade baby food, chopped herbs, coffee (perfect for keeping iced coffee cold), leftover eggs, cooking wine, soup stock, and of course ice cubes! If you live in the US, Canada or the UK, you can order a stainless steel ice cube tray conveniently here through Amazon and have it shipped directly to your home.