Healthy Bakeware Made from Non-Toxic Materials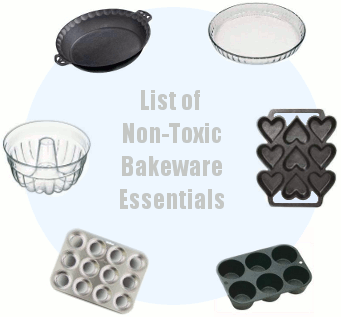 Looking to upgrade your bakeware arsenal with new pans and tools that contain no potentially harmful chemicals like PFOA/PTFE or BPA? In this Guide to Healthy Bakeware, you will find links to reviews and other articles covering non-toxic pans and plates for baking cakes, pies, muffins, and more, as well as baking tools made of non-toxic materials.
Health-conscious baking enthusiasts are eager to use healthy sugar alternatives in their cake, muffin and pie recipes, but not many people think about the health effects of the bakeware they use. Unfortunately, however, using pans made with an unsafe material can also have an impact on your health. If you are worried about toxic chemicals leaching out of your bakeware into your food, look for new bakeware made of oven-safe glass, stainless steel or cast iron. Experts generally agree that these are among the best materials for manufacturing non-toxic bakeware. If you are interested in "detoxifying" your bakeware collection, you will find tons of links to interesting reviews and articles below.