Non-Toxic Food Storage & Serveware Essentials
Looking for the best non-toxic products for serving and storing foods? In this section of our Guide to Non-Toxic Kitchenware, you will find links to product reviews and other articles that can help you stock your kitchen with safer options for storing and serving foods.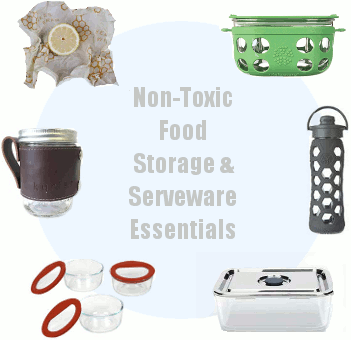 Sure, we prefer organic foods and like to avoid food additives when we can, but pesticides, fertilizers and unnatural additives are not the only toxins that can be present in our food. If made from materials that contain harmful substances such as BPA, aluminum or phthalates, the containers, jars and bottles we use to serve and store our foods may also have a negative impact on our health. Thankfully, there are plenty of non-toxic alternatives to all those potentially harmful items that may be sitting in your kitchen cabinets. If you are keen on replacing those products with safer options, you will find plenty of links to articles covering interesting non-toxic products below.