Tart and Pie Plates Made of Real Borosilicate Glass
Glass pie pans and tart plates are making a comeback as consumers are increasingly skeptical about the safety and eco-friendliness of PTFE-coated non-stick bakeware. If you're on the lookout for a round baking dish for your pies, tarts and quiches, and think glass is the way to go, you're in luck: oven-safe pie plates made of real borosilicate glass are relatively cheap, plus they are readily available, both in-store and online. Whether you live in the US, Canada or the UK, you'll be able to find both deep glass pie plates for thick American-style pies as well as shallower tart dishes ideal for thinner European-style tarts and quiches. If you live in the States, you might want to check out the selection of

glass pie/tart plates on Amazon.com. Also Amazon's local store in the UK sells glass baking dishes, many of which are made of authentic borosilicate glass (check out, for example, these

glass pie/tart plates on Amazon.co.uk).
Two Borosilicate Plates Definitely Worth Checking Out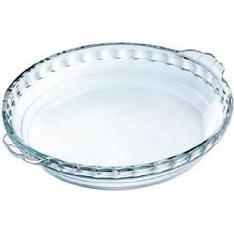 Arcuisine's Round 8.5-Inch Pie Dish
For traditional American-style pies
This oven-proof pan is ideal for those who are looking for a deep pie dish that's perfect for making thick American-style pies with generous fillings. Made of clear borosilicate glass, it allows you to watch the crust as it bakes, giving you more control over the color of the crust. Like all high-quality bakeware made of real borosilicate glass, this plate heats up gently and evenly, allowing your pies to bake uniformly. Think this pie plate is could be a great addition to your baking repertoire? To learn more or to buy of these plates straight away through Amazon, click on the link below:

View this pie pan on Amazon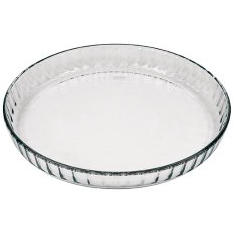 Marinex' Fluted Tart and Quiche Plate
For European-style tarts and quiches
The deep glass pie pan described above is a great choice for those who like classic American-style pies, but those looking for an oven-safe borosilicate glass plate for European-style tarts and quiches need another solution. This is where Marinex' round glass tart pan comes in. Just over ten inches in diameter, this 1.6-quart dish has short, fluted sides, making it perfect for traditional tarts and quiches that require a wide but shallow pie pan. The raw materials for Marinex glass bakeware include high-quality, pigment-rich sand, which gives Marinex glass pie and tart pans their natural slight bluish tint.

View this tart plate on Amazon
Why Get a Glass Baking Dish
Glass products are a staple in modern eco-friendly homes, and today you can find everything from glass bundt cake pans and glass muffin cups to silicone-encased glass bottles and silicone-protected glass lunch boxes. In addition to being recyclable, glass is non-reactive so you won't have to worry about unpronounceable chemicals leaching into your pastries if you get a glass pie pan.
On the downside, glass dishes can always break, even if they are made of real borosilicate glass or tempered soda-lime glass (if you want a dish that's virtually unbreakable, consider getting a sturdy cast iron pie pan). What's more, glass pie and tart pans are not naturally non-stick, so you'll have to grease them before every use. But if you don't mind a pie pan that is not non-stick and not shatter-proof, a glass pie plate may be just the perfect addition to your eco-friendly, non-toxic kitchen.
Sponsored Links / Ads
Don't Miss This

Comparison of Compact Deli Meat Slicers (for Home Use)
Thinking about equipping your kitchen with an electric food slicer? Check out these tips.
More Cool Products