10 Things to Do with a Watermelon (Ideas and Recipes)
Watermelon is a delicious low-calorie fruit that can be served and eaten in a variety of ways. If you have a lot of watermelon in our fridge and don't know what to do with it, here are 10 great ideas on how to use watermelon: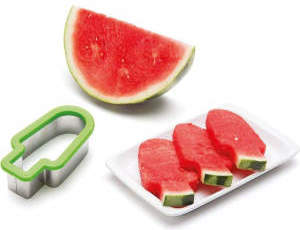 1. Serve Watermelon Cut into Popsicle Shapes
Serving watermelon slices cut into popsicle shapes is a great way to impress people at parties and picnics. You can make watermelon pops with a nifty little tool called watermelon pop or popsicle cutter, or you can use the following recipe:
Cut the middle part of a large watermelon into round slices about 3/4 inch thick, then cut the slices into triangles.
Using a sharp knife, cut a small slit into the green rind on each triangle, and slide in a popsicle stick (if you're using a watermelon pop cutter, you won't need to use sticks!).
Serve the watermelon pops right away, or freeze them on a baking tray lined with baking paper, and serve frozen.
2. Make Real Popsicles with Pureed Watermelon
There is no easier recipe for a frozen watermelon treat than cutting watermelon into slices and popping them in the freezer (see Idea #5 above), but there are also tons of other recipes for frozen treats that feature watermelon. For example, you can use watermelon to make traditional popsicles by puréeing watermelon along with other fruits in a blender, and then freeze the mixture in popsicle molds until frozen all the way through.
3. Grill Sliced Watermelon
Want to try something different next time you fire up the grill? Try sliced watermelon! While grilling may not be the most obvious way to prepare watermelon, grilled watermelon slices are absolutely delicious, and they are perfect as a side dish, dessert or added to a salad. Here's how to grill watermelon:
Preheat the grill or grill pan to very high heat. In the meantime, cut the watermelon into 1-inch thick slices.
Drizzle olive oil over the watermelon slices to thinly coat them.
Grill each side about 2 minutes until grill marks appear, then transfer to a plate. Season with salt and freshly-ground black pepper.
4. Make Healthy Melon Sorbet
If you have one of those trendy frozen fruit dessert makers such as Yonanas or Gourmia, try transforming watermelon and other melons into sorbet-like treats. All you have to do is feed pieces of frozen, slightly thawed melon into the chute of the machine, and this ingenious gadget will almost immediately start extruding your melon sorbet directly into a serving bowl. You can also use a blender instead of a frozen fruit dessert maker to turn frozen melon into sorbet-like desserts, but the process will take much longer, plus it can be difficult to get all that puréed frozen goodness out of the nooks and crannies of the blender.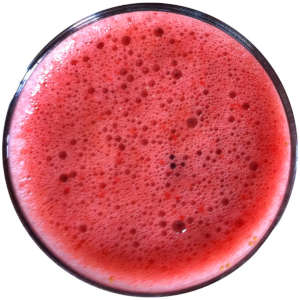 5. Incorporate it into Smoothies
Use watermelon to add sweetness and subtle flavor to smoothies. In smoothies, watermelon pairs particularly well with strawberries, oranges, mango and bananas. If you have a lot of extra watermelon on hand, you may also want to freeze some of that watermelon for later use in smoothies. While frozen watermelon does not make a good substitute for its fresh counterpart in most recipes because freezing and thawing make watermelon mushy, it does work well in smoothies and other blended recipes.
6. Make Watermelon Fruit Pizza
Here's yet another great idea on what to do with watermelon if you are throwing a party: use watermelon as a "crust" for a guilt-free fruit pizza! Not only is watermelon pizza topped with yoghurt and fresh berries good for you, it also makes a show-stopping dessert. And best of all, the recipe for watermelon fruit pizza is super easy to make and involves absolutely no cooking. So, here's how to make watermelon pizza in two simple steps:
Spread a dollop of vanilla-flavored Greek yoghurt or skyr onto a big, round slice of watermelon.
Top with berries of your choice and chopped fresh mint. Slice and serve!
7. Use Watermelon Balls as a Garnish on Smoothie Bowls
Use a melon baller to scoop out beautiful little balls of watermelon, and use them as a garnish on smoothie bowls. If you don't have a melon baller yet, you might want to get Farberware's melon baller on Amazon. This 2-in-1 melon baller features both large and small shaping heads, and you can also use it for shaping butter, soft cheeses, ice cream, sorbet, and more.
8. Use Watermelon in Salads
Watermelon makes a great addition to fruit salads, but did you know that you can also use watermelon to add juicy sweetness to green salads? The easiest way to use watermelon in salads is to cut its juicy flesh into cubes, and add the cubes to the bowl with the rest of the ingredients. Or, if you like something a bit more elaborate, try adding grilled watermelon or watermelon balls created with a melon baller to your salad.
9. Make Watermelon Feta Skewers
Watermelon paired with feta cheese is a match made in flavor heaven, and making skewers is one of the easiest things to do with watermelon and feta. Here's how to make watermelon feta skewers:
Cut some fresh watermelon and feta cheese into bite-sized cubes.
Thread a cube of watermelon onto a skewer, followed by a fresh mint or basil leaf, a cube of feta, another mint or basil leaf, and another piece of watermelon. Repeat until all the skewers have been prepared.
Lightly drizzle with balsamic and olive oil, and serve.
10. Serve Plain, Sliced Watermelon
There are tons of creative ways to use watermelon, but let's not forget the most obvious way: serving plain, sliced watermelon. If you like the idea of serving watermelon this way, just use a sharp knife to slice the fruit, and transfer to a serving platter. Or, gear up and get Sleeke's watermelon slicer which makes preparing watermelon quick, easy and fun (check out this video to see this ingenious gadget in action).
* * *