Weekly Smoothie Challenge
Apricot, Banana and Carrot Smoothie
2 Servings
This vibrant smoothie combines apricots and carrot juice, two of the world's best sources of beta-carotene. It also features flaxseed, an excellent source of healthy omega-3 fatty acids, and banana which adds creaminess to the mixture. The sweet tangy taste of the fresh orange adds zing to this smoothie.
To enjoy a different smoothie creation every day of the week, tweak the basic recipe below by replacing the orange with another fruit each day after the first day. Some great substitutes for the orange include kpassionfruit, raspberries, cherries, kiwi, papaya and fresh pineapple. For details on how much of these fruits you should use, check out the Tweak It! box at the end of this recipe.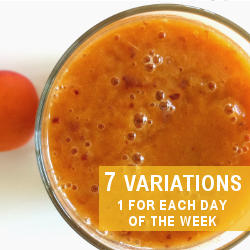 Ingredients
Half a banana
5 organic apricots
1 orange
1/2 cup crushed ice
1 1/2 cups fresh carrot juice
2 tsp ground flaxseed
Directions
Peel the banana and cut it into large chunks. Rinse and pit the apricots. Peel the orange. If you're using another fruit from the Tweak It! box to replace the orange, wash, peel and pit the fruit as necessary.
Place the banana chunks, apricots, orange, crushed ice, carrot juice and flaxseed in a large-capacity blender, and secure the lid. Blend until smooth and creamy.
If the smoothie is too thick for your liking, add a bit of water, and blend a few more seconds.
Pour into tall glasses and serve immediately
Tweak It!
Day 1
Day 2
Day 3
Day 4
Day 5
Day 6
Day 7
1
orange
6
passionfruits
1 cup
raspberries
1 cup
cherries
2
kiwis
5 oz
papaya
5 oz
fresh pineapple