Recipe
Steamed Asparagus with Sesame Seeds
4 servings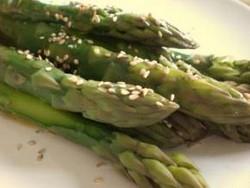 Ingredients
1 tbsp sesame seeds
2 lbs asparagus
1 tablespoon lemon juice
2 tbsp extra-virgin olive oil
2 tsp sesame oil
2 tsp fresh ginger, grated
Salt and freshly ground black pepper, to taste
Directions
Stir sesame seeds in a hot non-stick frying pan until they are golden brown.
In a small bowl, whisk together lemon juice, olive oil, sesame oil, ginger, and salt and pepper.
Prepare a steamer with boiling water. Add asparagus, cover, and steam until tender crisp, about 3-5 minutes. Pour oil and ginger mixture over asparagus.
Transfer to a serving platter. Sprinkle with sesame seeds.