Creamy Broccoli and Avocado Soup (Vegan)
Yields 6 cups
When it comes to making creamy soups that are dairy-free, one of the best substitutes you can use for cream is puréeed avocado. In addition to lending creaminess to your soups, avocados have anti-inflammatory properties, and they are loaded with nutrients such as vitamins C, K and E, folate, potassium, and monounsaturated fatty acids. In this simple soup, the creamy texture of avocado marries perfectly with broccoli, a nutrient-dense Brassica vegetable that is loaded with beta-carotene, vitamins C and K, folate and potassium.
Tip: Use unsalted or low-sodium vegetable stock for this recipe, and season the soup with salt in the end. That way, you'll have more control over the overall flavor and sodium content of the dish.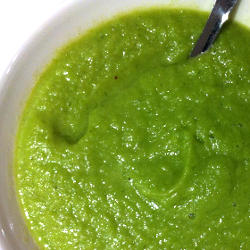 Ingredients
1 tbsp olive oil
1 small to medium onion, chopped
1/2 cup chopped leeks
2 cloves garlic, minced
2 cups vegetable stock
1 1/2 cups water
1 pound broccoli florets
1 large avocado, peeled and pitted
Salt, as needed
Directions
In a medium saucepan, sauté the chopped onion, leeks and garlic in 1 tablespoon of olive oil.
Add the stock and water, and bring to a boil.
Add the broccoli florets, and cook for 3 to 5. Remove from the heat, and let cool for 10 minutes.
Transfer to a blender, and add the avocado. Puré until smooth and creamy (depending on the size of your blender, you may have to do this in batches).
Serve immediately. This recipe yields about 6 cups of soup.