Recipe
Hot Tomato Soup
2 servings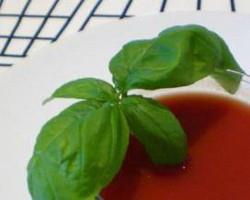 Ingredients
3 large garlic cloves
3 oz shallots, peeled sliced
1 tablespoon olive oil
1 (14 1/2-ounce) can stewed tomatoes, undrained
1 1/2 cups chicken broth
1/2 teaspoon chili powder
1/2 tsp apple cider vinegar
1/4 tsp salt
Dash of freshly ground red pepper
2 tbsp fresh basil, chopped
Peel and crush garlic and set aside. Leaving crushed or minced garlic for at least 5-10 minutes after crushing helps maximize its health-protective effects.
While health-promoting compounds are forming in crushed garlic, combine shallots, tomatoes, chicken broth, and apple cider vinegar in a blender or food processor and process until smooth.
Heat olive oil in a large nonstick saucepan over medium heat. Add garlic and chili powder, and cook about 30 seconds, stirring constantly.
Add tomato mixture, and bring to a boil. Turn off heat and stir in basil. Serve hot.