Weekly Smoothie Challenge
Citrusy Power-Smoothie
2 Servings
This bright smoothie features freshly-pressed orange juice, mandarines, banana and lemon juice. The recipe also calls for turmeric powder, which further intensifies the gorgeous yellow color of this refreshing citrus smoothie.
The basic recipe below uses freshly-pressed orange juice as a liquid base, but if you're planning to treat yourself to a citrus smoothie on several days in a row, you may want to replace the orange juice with another liquid on some of those days to keep your taste buds intrigued. Use the Tweak It! section at the bottom of this page for inspiration.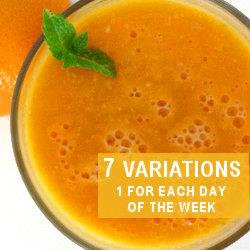 Ingredients
1 banana
2 mandarines
2 tsp pure turmeric powder
1/2 cup crushed ice
Juice of 1 organic lemon
1 cup freshly-pressed orange juice (or 1 1/2 cups of any other juice from the Tweak It! box)
1/2 cup filtered water
Directions
Peel the banana and the mandrarines, and break them into a few big pieces.
Place all the ingredients in a large-capacity blender. Note: If you're using a high-powered blender that can handle whole ice cubes, you can also use eight ice cubes instead of crushed ice if you like.
Blend until smooth and creamy.
Check the consistency of the smoothie. If it's is too thick for your taste, add a bit more water, and blend again.
Pour into glasses, and serve.
Tweak It!
| Day 1 | Day 2 | Day 3 | Day 4 | Day 5 | Day 6 | Day 7 |
| --- | --- | --- | --- | --- | --- | --- |
| Fresh orange juice | Cranberry juice | Blackcurrant juice | Fresh carrot juice | Organic apple juice | Coconut water | Guava nectar (get it here) |