Strawberry Fennel Salad
Yield: Serves 4
You can't do better than crisp fennel and sweet strawberries for a refreshing salad, and this recipe combines them with crunchy cucumber and walnuts to make a super-healthy salad that is full of vitamins and other nutrients. Fennel provides plenty of fiber and vitamin C which help keep your figure in shape. It also contains anethole, an extraordinary phytochemical with both anti-inflammatory and anti-cancer effects. The walnuts and strawberries in this salad are good for your cardiovascular system.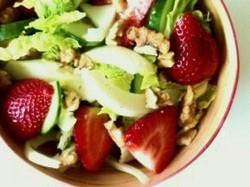 Ingredients
2 Tbsp extra-virgin olive oil
1 Tbsp white wine vinegar
200 g (7 oz) lettuce, shredded
1 large head fennel, thinly sliced
1/2 organic cucumber, thinly sliced
10 large strawberries, quartered
1/2 cup roughly chopped walnuts
Directions
Whisk together the olive oil and vinegar in a large salad bowl. Add the shredded lettuce, sliced fennel, sliced cucumber, and quartered strawberries. Toss well.
Sprinkle with chopped walnuts and serve immediately.
Did you know?
This Strawberry Fennel Salad calls for organically grown cucumber. Conventionally grown cucumbers often contain significant amounts of pesticides such as endosulfans and o-phenylphenol.