Weekly Smoothie Challenge
Raspberry and Almond Milk Smoothie with Camu-Camu
2 Servings
Both raspberries and camu-camu fruit, the two key ingredients in this fruity smoothie, are supercharged with ellagic acid, a phytochemical with wide-ranging health benefits. Thanks to the almond milk and camu-camu powder it contains, this smoothie also supplies your body with tons of vitamin C and vitamin E. The basic recipe also calls for apricots, but if you're planning to make this delicious smoothie on several days in a row, consider replacing the apricots with one of the other ingredients in the Tweak It! box below in order to keep your taste buds entertained.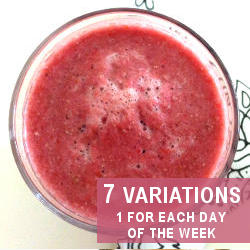 Ingredients
1 small organic banana
3/4 cup organic raspberries
2 apricots (or another ingredient from the Tweak It! box below)
1 1/2 cups almond milk
1 Tbsp camu-camu powder (buy it)
Scant 1/2 cup crushed ice
Honey, to taste
Directions
Peel the banana and break it into a few chunks. Rinse the cherries and apricots thoroughly, and remove the hard pits inside the apricots. If you're using another fruit from the Tweak It! box instead of apricots, wash, peel and pit the fruit as needed.
Put the banana chunks, raspberries, halved apricots, almond milk, camu-camu powder and crushed ice in a large blender, and secure the lid. If you're using one of the modern VitaMix blenders or another high-powered blender that can handle whole ice cubes, you can also replace the crushed ice with 8 whole ice cubes.
Turn the blender on and slowly increase the speed. Blend at full speed until desired consistency is reached.
Check the flavor and consistency. Add honey and water, if needed, and blend a few more seconds. Serve immediately.
Tweak It!
Day 1
Day 2
Day 3
Day 4
Day 5
Day 6
Day 7
2
apricots
3 oz
sliced carrots
1
mandarine
1/2 cup
cherries
1 small
bell pepper
3 oz
fresh pineapple
1
kiwifruit