Weekly Smoothie Challenge
Spinach, Avocado and Pineapple Smoothie
2 Servings
This smoothie pairs earthy spinach and refreshing kiwifruit with creamy avocado and sweet pineapple juice to create a luscious and satisfying smoothie. The substitute suggestions in the Tweak It! box at the bottom of this page ensure that with small tweaks to the basic recipe, you can create a completely new culinary experience for every day of the week.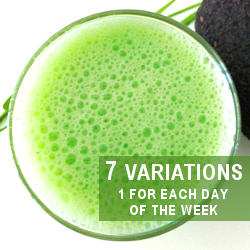 Ingredients
1 ripe avocado
1/2 cup organic baby spinach
2 kiwis (or another ingredient from the Tweak It! box)
Scant 1/2 cup crushed ice
1 1/2 cups additive-free pineapple juice
Directions
Peel and pit the avocado, wash the baby spinach, and peel the kiwis. If you're using other fruit from the Tweak it! box below to replace the kiwis, peel and pit the fruit as needed.
Put the avocado, kiwis, baby spinach, crushed ice and pineapple juice in a large-capacity blender or food processor. If you are using a Vitamix 5200 or another high-powered blender that can handle ice cubes, you can also use 8 whole ice cubes instead of 1/2 cup crushed ice. Puree until smooth.
Check the consistency. If the smoothie is too thick, add a little bit of water and blend for a few more seconds. Serve immediately.
Tip: You can enjoy a slightly different version of this Spinach, Avocado and Pineapple Smoothie every day the rest of the week by replacing the kiwis in the original recipe with the substitute ingredients (Days 2 to 7) listed in the Tweak It! box below.
Tweak It!
Day 1
Day 2
Day 3
Day 4
Day 5
Day 6
Day 7
2
kiwis
1
orange
1
pear
3/4 cup
fresh lychees
2
mandarines
1 cup
fresh or frozen apricots
5 oz
fresh pineapple