Weekly Smoothie Challenge
Creamy Blueberry Smoothie with Whole-Milk Yogurt
2 Servings
A frosty smoothie made with frozen blueberries, whole-milk yogurt, banana and orange is a treat even though it's packed with wholesome nutrients. To maximize the health benefits of this creamy treat, use organic yogurt and fruit instead of regular yogurt and conventionally grown fruit.
The basic recipe below calls for a fresh orange, but if you're planning to treat yourself to a blueberry & yogurt smoothie on several days in a row, you may want to use other fruit on some of those days in order to keep your diet varied – and your taste buds happy. Use the Tweak It! section at the bottom of this page for inspiration.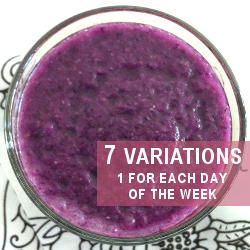 Ingredients
1 small organic banana
1 1/2 cups frozen organic blueberries
1 small orange
1 1/2 cups organic whole-milk yogurt
Water, as needed
Directions
Peel the banana and orange, and break them into a few large pieces. Rinse the frozen blueberries under cold running water.
Put the banana, orange and blueberries in a large-capacity blender, and pour the yogurt over them.
Secure the lid, and blend until nice and smooth, about 1 minute.
Remove the lid, and check the consistency. If the smoothie is too thick for your liking, add some water to the blender, replace the lid, and process on high for a few more seconds. Pour the smoothie into glasses, and serve immediately.
Tweak It!: Enjoy a slightly different version of this Creamy Blueberry Smoothie every day the rest of the week by each day replacing the orange in the original recipe with one of the other ingredients listed below.
Tweak It!
Day 1
Day 2
Day 3
Day 4
Day 5
Day 6
Day 7
1
orange
1
apple
1
pear
5 oz
blackberries
5 oz
raspberries
5 oz
papaya
5 oz
fresh pineapple