Where to Find Wheat Germ (Raw or Toasted)
Supercharged with fiber, protein, B vitamins, iron, magnesium, and a number of other nutrients, wheat germ – whether raw or toasted – is one of the most nutrient-dense foods you will find anywhere. You can sprinkle it over your favorite cereal, oatmeal, yogurt, or salad, or use it to boost the nutrient profile and texture of smoothies and baked goods. If you haven't bought wheat germ before – or just want to get more out of your next purchase – here are a few tips on where to find wheat germ and what to look for.
Should You Buy Raw or Toasted Wheat Germ?
From a nutritional point of view, there seems to be no huge difference between raw and toasted wheat germ. Both are packed with fiber, protein, B vitamins (such as thiamin, vitamin B6, and folic acid), iron, magnesium, potassium, zinc, copper, manganese and selenium. That said, FDA data show that there are some differences in the exact amounts of specific nutrients found in toasted vs raw wheat germ – sometimes in favor of raw wheat germ, sometimes in favor of its toasted counterpart – but these differences could be due to batch-to-batch variation.
From a culinary point of view, some people prefer the mildly nutty flavor and crunchier texture of lightly toasted wheat germ, while others like the slightly moist texture of raw wheat germ. If you haven't tried wheat germ before and don't known which version you like better, you can always go for raw wheat germ and toast it yourself at home (you'll find instructions on how to do this later in this article).
Keep in Mind Wheat Germ is Prone to Oxidation
The germ is the reproductive part of the wheat plant. When wheat germinates, the new wheat plant emerges from the germ and is nourished by the nutrients concentrated in the germ. Unfortunately, exposure to oxygen and heat after milling causes the germ to start losing its vitamins and the quality of its delicate oils. That's why you'll want to buy wheat germ from a reputable supplier, and store it in an airtight container in a dry, cool place.
Where to Get Wheat Germ in the US (or Canada)?
If you live in the US, there's a good chance you will find Kretschmer's Toasted Wheat Germ at your local grocery store – expect the price to be somewhere around 4 to 6 dollars per a 12-oz jar of toasted wheat germ. That's certainly not a high price to pay for the nutrient punch you'll get, but if you're looking to get the most bang for your buck, buying wheat germ in bulk online may be even cheaper. Bob's Red Mill offers good value for money – see their offer for raw wheat germ on Amazon.com). Like toasted wheat germ better? Not to worry, the package should come with instructions on how you can toast wheat germ at home (it only takes 5 to 10 minutes!). And for those who can't wait to learn how it is done, here are the instructions:
Preheat your oven to 350°F (175°C)
Spread a thin layer of raw wheat germ evenly over a cookie sheet.
Bake for 5 to 10 minutes or until lightly browned. Keep a close watch on the wheat germ and stir frequently as it browns fast.
Where to Buy Wheat Germ in the UK?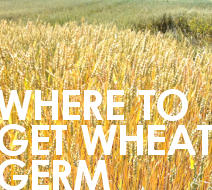 Finding wheat germ in the UK is more difficult than in the US, and you may have to head to a health food store, instead of a supermarket, to get it. Or, you can buy wheat germ online (try, for example, Shipton Mills' Organic Wheatgerm from the UK.
Can You Buy Wheat Germ in Bulk and Freeze It?
Wheat germ, especially raw wheat germ, has a relatively short shelf. If you're planning to buy wheat germ in bulk in order to save money, you'll be pleased to learn that wheat germ stores well in the freezer. Store what you think you'll be eating within a few weeks in an airtight container in a dark cupboard, and freeze the rest for future use!
Book You May Like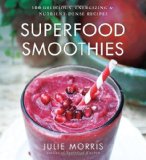 Stuck in a smoothie rut? There's no better place to look for inspiration than Julie Morris'
Superfood Smoothies
! Morris gives her vegan smoothies an extra health and flavor kick by using some of the most nutrient-dense natural ingredients on Earth. Hemp seeds, cacao nibs, maca, lucuma, açai berries, chia seeds, chlorella, and goji berries are a few examples of the newly rediscovered superfoods that frequently pop up in this fascinating cookbook. If you live in the US or UK, check out the offer and reader reviews by clicking
here
(

US residents) or
here
(

UK residents).