Healing Properties of Watercress
Watercress, or Nasturtium officinale, has many disease-fighting and healing properties that make this semi-aquatic, perennial plant a true superfood. In this article, we first take a look at the history of this wonderful edible plant and then provide an overview of the healing properties of watercress. If the impressive health benefits of watercress described in the following paragraphs turn you into a real fan of this extraordinary healing plant, be sure to read the final paragraph of this article which explains what is needed to grow watercress in your own garden. You can use your watercress crop to add a nice peppery note to salads and sandwiches, but watercress can also be used in soups such as watercress and mint soup and winter pea and watercress soup.
History of Watercress as a Healing Food
Western medicine can be traced back to the Hippocrates, a Greek physician who lived in the 4th century BC. Hippocrates, who later became known as the father of Western medicine, believed that disease had natural causes and used various plant-based remedies in his treatments. Hippocrates was particularly convinced of the health benefits of watercress, a plant he often referred to as the "cure of cures". Hippocrates is known to have built his first hospital in Kos, Greece, near a river where he could grow watercress to help treat his patients.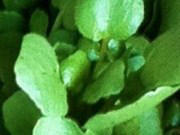 Watercress is loaded with vitamin C.
Potential to Treat and Heal a vast Range of Ailments
Watercress has retained its status as a true superhero food, and it is still used to prevent and heal a vast range of ailments. The modern herbal medicine recognizes the blood cleansing and anti-inflammatory properties of watercress, and many herbalists expressly recommend these little peppery leaves to alleviate eczema. It can also be used to prevent excessive bruising as it provides a truckload of vitamin C and vitamin K, two key anti-bruising nutrients. Due to its high concentration of vitamin C, it has also been used to treat cold symptoms such as runny nose and coughs.
Anti-Cancer Properties
Furthermore, researchers have found daily consumption of watercress to reduce DNA damage in blood cells. DNA damage in blood cells is an indicator of a person's overall cancer risk. Watercress contains phenethyl isothiocyanate (PEITC), a special mustard oil that is known to have significant anti-cancer properties. But the anti-cancer properties of watercress may also be attributable to the high levels of vitamin C, beta-carotene, and lutein found in watercress. One study found that consumption of watercress increased test subjects' blood levels of lutein and beta-carotene by 100% and 33%, respectively.
Growing Watercress in Your Own Garden
In most countries watercress is available in larger supermarkets year round, but you can also grow your own crop in your garden. Contrary to popular belief, watercress does not have to be grown in moving water. It can be grown in moist soil or even in a bucket of water! If you don't have a garden, growing watercress will be a challenge. However, garden cress, a close relative of watercress, can be grown indoors year round (for details, see How to Grow Garden Cress Indoors).
Don't Miss This

Omega-3 Content of Wild vs Farmed Salmon
How farmed salmon compares to its wild counterpart in terms of omega-3 fatty acid content.
More to Explore
Book You May Like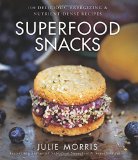 Who says snacks and desserts have to be unhealthy? In
Superfood Snacks
, recipe developer and New York Times best-selling author Julie Morris shares
100 creative recipes that transform "guilty" pleasures into healthlicious snacks
that are loaded with nutrients. Julie's inspiring recipes feature health food staples like bananas, quinoa and oats, as well as exotic superfoods like chia seeds, acai berries, goji berries, maqui beries, hemp seeds, camu camu, and more. Jam-packed with stunning photography to whet your appetite, this 200-plus page collection of healthy treats is
available through Amazon
.