Review: Andrew James Bread Maker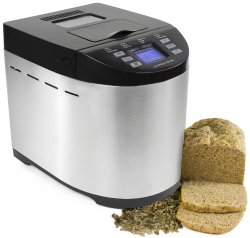 Andrew James breadmaker, available through Amazon here
The Andrew James bread maker has all the features you'd expect in a modern bread machine, such as a wide range of bread and dough programmes to choose from, three crust settings, delay start timer, quick bake option, gluten free programme, viewing window, keep warm function and two loaf size options. But it also boasts one heavily undermarketed, yet potentially very interesting feature: the custom programme, which allows you to customise the time of each phase of a programme cycle to your own requirements. Below, we review the key features of this all-singing bread maker in detail and take a look at how it compares or contrasts with other top bread makers sold in the UK and Ireland, both in terms of features and price.
Key Features
Pre-programmed cycles
The Andrew James bread maker has altogether 11 pre-programmed cycles, including bread, dough, cake and homemade jam modes. Note that it does not have a special programme for baking rye bread – a feature that has been in high demand in recent years. If you are looking for a model that has a special pre-programmed mode for rye bread, check out Panasonic's SD-ZB2502-BXC bread maker. Here's an overview of the 11 standard programmes you will be getting if you decide to get the Andrew James bread maker:
Basic
French
Whole Wheat
Quick
Sweet
Ultra Fast
Gluten Free
Dough
Jam
Cake
Bake Only (no kneading or rising)
Custom programme
Also know known as the Home-Made Cycle, the Custom function allows you to set your own timings to produce a loaf of bread tailored to your specific preferences. This function allows you to reset the times for kneading, rising, baking and keep warm function, plus it will memorise the settings for your next use. The time ranges for the different stages are as follows:
Knead 1: 6-14 minutes
Rise 1: 20-60 minutes
Knead 2: 5-20 minutes
Rise 2: 5-120 minutes
Rise 3: 0-120 minutes
Bake: 0-80 minutes
Keep warm: 0-60 minutes
Sleek design available in silver, red or blue
The classy black and silver design means this workhorse will fit nicely into most kitchens. And, for those looking for something more colorful, this Andrew James bread maker is also available on Amazon.co.uk in stunning red as well as in blue (get the red model here or get the blue model here).
Delay timer
The Andrew James bread maker comes equipped with a programmable timer which allows for delaying the end of the baking cycle by up to 13 hours. This nice little feature makes it possible to wake up to the smell of freshly baked, home-made bread in the morning or to come home to a warm loaf of bread at the end of a long day at work. Keep in mind, though, that you shouldn't use the delay timer when using perishable ingredients such as cheese, eggs, cream or milk.
Automatic nut and raisin dispenser
Do you hate the hassle of mixing in nuts, raisins and other ingredients throughout the baking process? The Andrew James bread maker makes light work of this with its nut and raisin dispenser, which has been designed to automatically release add-ins into the dough exactly at the right moment.
Complaints / Problems
The Andrew James Bread Maker Manual is rather limited, and many reviewers on Amazon complain that the recipes in the booklet don't work. Some of the reviewers wish they had gone for a Panasonic bread maker or another well-known high-end bread maker. Others had found a way around the lack/seemingly poor quality of the recipes in the manual by scouring the internet for bread machine recipes, or by using recipes from other manuals or books. One reviewer wrote that she had had very good results with the recipes from the book Bread Machine Easy using her Andrew James Bread Maker AJ-BM102XJ (see her comment here). To view all reviews of the Andrew James bread maker available on Amazon's UK website, click here.
Comparison: Andrew James vs. Other Similar Breadmakers
Andrew James Breadmaker
VonShef Breadmaker
Panasonic SD-ZB2502-BXC
Kenwood BM450
Highlights

One of the cheapest feature-rich breadmakers
Customisable programme

One of the cheapest feature-rich breadmakers
Customisable programme
Recipe book included in the price

Top user rating on Amazon UK
Extra tough and scratch proof coating on pan and blade
Plenty of recipes included in the manual

Allows you to create and store up 5 of your own programmes

At least 10 bread/dough programmes
Yes
Yes
Yes
Yes
Rapid bake / Eco setting*
Yes
Yes
Yes
Yes
Bake only option
Yes
Yes
Yes
Yes
Jam/compote programme
Yes
Yes
Yes
Yes
Gluten-free programme
Yes
Yes
Yes
Yes
100% rye programme
No
No
Yes
No
Customisable programme
Yes
Yes
No
Yes (up to 5)
Crust settings*
Light, medium, dark
Light, medium, dark
Light, medium, dark
Light, medium, dark
No. of loaf size options*
2
2
3
3
Viewing window
Yes
Yes
No
Yes
Delay timer*
Up to 13 hours
Up to 13 hours
Up to 13 hours
Up to 15 hours
Keep warm function*
Up to 1 hour
Up to 1 hour
Up to 1 hour
Yes
Raisin and nut dispenser*
Yes
Yes
Yes
Yes
Find lowest price on Amazon.co.uk
Click here
Click here
Click here
Click here
*May be available on select cycles/programs only (see user manuals for details)