Review of the Tribest Sedona Classic Dehydrator (S9000/P9000)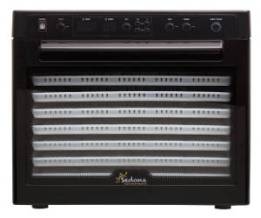 If you are looking for a spacious, feature-packed food dehydrator with BPA-free trays, you should definitely check out the Tribest Sedona Classic dehydrator. With an adjustable thermostat, built-in timer, dual fan, glass door and nine stainless steel or BPA-free plastic trays, the Sedona Classic takes the hassle out of dehydrating foods, and you can just focus on enjoying your raw food and other dehydrated snacks.
In this article, we take a look at some of the most interesting features and functions of this popular countertop dehydrator. This review covers both the Sedona Classic S9000, which comes with stainless steel trays, as well as the P9000 model which comes with BPA-free plastic trays.
Key Features of S9000 and P9000
Nine Stainless Steel or BPA-Free Plastic Trays
The Sedona Classic dehydrator comes with 9 trays, each measuring around 15 x 13 inches, so you'll have plenty of space to dehydrate your foods. The P9000 model comes with BPA-free plastic trays, while the S9000 model comes with stainless steel trays. Note that Amazon also sells stainless steel trays for the Sedona Classic separately, so even if you decide to get the P9000 model, you will still be able to buy fitting stainless steel trays at a later stage (provided that they are still available).
Adjustable Thermostat
Unlike some cheaper dehydrators out there, the Sedona Classic has an adjustable thermostat. With settings ranging from 85°F to 155°F, it gives you even more control over the drying temperature than some of the top Excalibur models available at the time of writing (September 2016). Temperature control is a key factor in getting good results—using too little heat may spoil the food, while too much heat can destroy health-promoting enzymes and nutrients in raw foods.
99-Hour Timer with Automatic Shut-Off Function
The Sedona Classic dehydrator comes with a timer that allows you to set the unit to run for up to 99 hours, and once the time is up, the machine will automatically shut itself off. It is important to note, however, that unlike the Sedona Express and the Sedona Combo, the Classic model does not have a Two-Stage Sequential Temperature Timer, or TST, which allows the user to program the machine to automatically change the drying temperature after a certain period of time.
See-Through Door Made of Glass
Some dehydrators come with a see-through door which allows the user to monitor what is happening inside. In most cases, the see-through door is made of plastic, but there are some exceptions, the Tribest Classic with its glass door being one of them.
Quiet and Energy-Efficient Operation Thanks to Dual Fan Technology
The Tribest Sedona Classic comes with two independent fans, which means it can be used at its full capacity or half its capacity. So, if you want to dehydrate a smaller batch of food, you can turn off one of the fans, and the dehydrator will you use less energy and create less noise. The dual fan feature is also great when you want to use it at its full capacity because two simultaneously operating fans distribute air more evenly than a single fan.
* * * *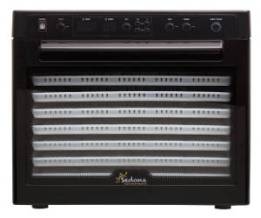 Ordering the Tribest Sedona Classic on Amazon
If you think the Tribest Sedona Classic is the right dehydrator for your kitchen, go to Amazon where you can read user reviews, check the current Amazon price, and view more detailed product specifications. If you are still not sure whether this is the right model for you, get help choosing the best Sedona dehydrator for you here.