Which Excalibur Dehydrator Model Should You Buy?
If you want to get an Excalibur dehydrator but don't know which model you should buy, you've come to the right place. In this article, we discuss factors you should take into consideration when deciding which Excalibur model is the best one for you and your family. At the end of the article you'll also find handy comparison charts which show some of the key differences and similarities between different non-commercial, non-stackable Excalibur dehydrators. The charts include both models that come with stainless steel trays and models that have plastic trays (which are generally cheaper).
Finding the Best Excalibur Model for You – Factors You Should Consider
Drying space
Unlike some other dehydrators out there, Excalibur's rectangular dehydrators are not expandable, which means you won't be able to expand the drying space by purchasing more trays to stack on top. Therefore, it is important to think about how much food you want to be able to dehydrate at once when choosing a dehydrator. If you decide to buy one of Excalibur's 5-tray dehydrators, you will get around 8 sq. ft. of drying space, compared with around 14 sq. ft. if you decide to get one of Excalibur's 9-tray models. For heavy users, there is also the Excalibur EXC10EL, a large-capacity dehydrator with 10 trays yielding around 16 sq. ft. of drying space.
Tray material
Some Excalibur models come with plastic trays, while others come with stainless steel trays. Some people prefer plastic trays because sliced fruits and other sticky foods may be easier to remove from plastic trays than from metal trays. Those who think Excalibur dehydrators with stainless steel trays are the best often praise their durability and safety (high quality stainless steel is considered one of the safest materials to use in the kitchen because it cannot leach chemicals like BPA or phthalates).
Built-in timer
Available on select Excalibur dehydrators, a built-in timer allows you to set your dehydrator to run for a specified amount of time, and once the time is up, it will automatically shut itself off. Most of the Excalibur dehydrators that have this neat feature allow you to set the timer for up to 26 hours, but there are also a few models that allow for even longer cycles.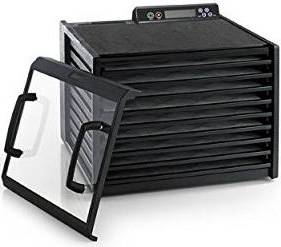 Excalibur's 9-tray dehydrator with a clear door and a programmable two-stage cycle, available from Amazon
Programmable two-stage cycle
Some of the more advanced Excalibur dehydrators come with a two-stage timer which allows you to set the dehydrator to run at a specific temperature for a specific amount of time and then switch to another temperature for the rest of the cycle. The dehydrator automatically adjusts the temperature after the first stage and shuts off when the overall cycle is complete.
See-through door
Some, but not all, Excalibur dehydrators have a see-through door which allows you to monitor what's happening inside your dehydrator without having to open the door. The see-through door is made from clear plastic, unless you go for the pricey EXC10EL which comes with a glass door.
Comparison of Excalibur Dehydrators with Stainless Steel Trays
Note: SS=Stainless steel
Excalibur D500SHD
Excalibur D500CDSHD
Excalibur D900SHD
Excalibur D900CDSHD
Excalibur EXC10EL
Number of trays
5
5
9
9
10
Unit dimensions*
8.5 x 17 x 19
8.5 x 17 x 19
12.5 x 17 x 19
12.5 x 17 x 19
17.3 x 20.5 x 17
Drying space
8 sq. ft.
8 sq. ft.
14 sq. ft.
14 sq. ft.
16 sq. ft.
Tray material
SS
SS
SS
SS
SS
Case interior
Plastic
Plastic
Plastic
Plastic
SS
Case exterior
SS
SS
SS
SS
SS
Door
SS
See-through plastic
SS
See-through plastic
Glass
Tray size, inches
15 x 15
15 x 15
15 x 15
15 x 15
15 x 15
Timer, max. setting
26 hours
26 hours
26 hours
26 hours
99 hours
Two-stage timer
No
No
No
No
Yes
Wattage
440
440
600
600
600
More info
Info/Buy
Info/Buy
Info/Buy
Info/Buy
Info/Buy
Info/Buy
Info/Buy
Info/Buy
Info/Buy
Info/Buy
*Approximate; in inches
Comparison of Excalibur Models with Plastic Trays
SS=Stainless steel
B=Black case; W=White case

Excalibur 3500B
3500W
Excalibur 3900B
3900W
Excalibur 3926T(B)
3926T(W)
Excalibur 3926TCDB
Excalibur D900S
Excalibur 3948CDB
# trays
5
9
9
9
9
9
Unit dimensions*
8.5 x 17 x 19
12.5 x 17 x 19
12.5 x 17 x 19
12.5 x 17 x 19
12.5 x 17 x 19
12.5 x 17 x 19
Drying space
8 sq. ft.
14 sq. ft.
14 sq. ft.
14 sq. ft.
14 sq. ft.
14 sq. ft.
Tray material
Plastic
Plastic
Plastic
Plastic
Plastic
Plastic
Case interior
Plastic
Plastic
Plastic
Plastic
Plastic
Plastic
Case exterior
Plastic
Plastic
Plastic
Plastic
SS
Plastic
Door
Plastic
Plastic
Plastic
Clear plastic
SS
Clear plastic
Tray size*
15 x 15
15 x 15
15 x 15
15 x 15
15 x 15
15 x 15
Timer**
No timer
No timer
26 hours
26 hours
26 hours
48 hours
2-stage timer
No
No
No
No
No
Yes
Wattage
440
600
600
600
600
600
More info
Info
Info
Info
Info
Info
Info
Info
Info
Info
Info
Info
Info
*Approximate; in inches
**Max. setting