Healing Psoriasis with Fruit Smoothies
Psoriasis is considered a chronic inflammatory condition in which white blood cells seem to play a crucial role by contributing to the development of oxidative stress. Fruits and vegetables are rich in antioxidants, which help fight chronic inflammation by reducing oxidative stress. In addition, fruits and vegetables are packed with fiber which, according to Textbook of Natural Medicine, may help combat gut-derived toxins that have also been implicated in the development of psoriasis. Considering the antioxidant, anti-inflammatory and gut-healing properties of fruits and vegetables, it is not surprising that many experts today emphasize the importance of a high intake of vegetables and fruits in the treatment of psoriasis. Now, for those find it difficult to incorporate enough fruits (and vegetables) into their diets, homemade smoothies offer a great solution. They are a cinch to prepare, and when made with fresh, whole ingredients, smoothies will supply your body with tons of antioxidants and fiber to help keep those nasty psoriasis flare-ups at bay.
Low Incidence of Psoriasis Linked to High Fruit Intake
Before we take a look at what you need to become a smoothie-making whiz, let's take step back and look at some studies that have investigated whether there is an association between psoriasis incidence/severity and fruit intake:
An interesting observational study published in the Journal of Translational Medicine in 2015 found an inverse association between the incidence of psoriasis and the intake of fruits, along with a few other plant-based foods. Also the Psoriasis Area and Severity Index (PASI) scores and C-reactive protein (CRP) levels, which are commonly used to assess the severity of psoriasis, were negatively correlated with the consumption of fruit and vegetables. Another observational study, published in the British Journal of Dermatology in 1997, found a statistically significant inverse association between psoriasis risk and the intake of fresh fruit, carrots and tomatoes. Of course, these observational studies do not prove that fruits and vegetables are protective against psoriasis since correlation does not necessarily imply causation. But there is also at least one interventional study that supports the hypothesis that a diet rich in fruits and vegetables may help fight psoriasis, at least in some people. In this study, a vegetarian diet, preceded by a 2-week fast, resulted in significant symptom relief in some psoriasis patients. This study also looked at the impact of a vegetarian diet on other chronic inflammatory disorders, including atopic eczema, but the positive effects were only observed in psoriasis patients.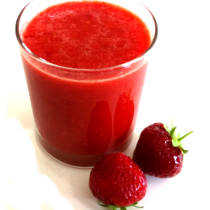 Making Healing Fruit Smoothies – What You Need
A Good Blender
A good blender is the key weapon in your smoothie-making arsenal. One of the most popular high-end blenders in America is Vitamix, and while many smoothie enthusiasts feel Vitamix is worth its price, there are also plenty of other options you might want to consider, especially if you don't have much space in your kitchen. Here are a few interesting options:
Juicer-blender combos – If you like smoothie recipes that call for fruit and/or vegetable juices instead of water, you might want to consider getting one of the new all-in-one juicer blenders, such as the Breville juicer blender combo, or the popular Oster juicer blender. Ideal for kitchens where space is at a premium, these dual-purpose gadgets can be turned from juicers into blenders, and vice versa, simply by changing the head of the machine.
Portable blenders – Are you often on the go? Blenders with portable travel cups are a great option for psoriasis sufferers who love the idea of fresh, nutritious smoothies but have no time to waste. These ingenious gadgets allow you to blend directly in the container you drink from, so you won't have to bother with pouring a drink from one container to another, which also means fewer dishes to wash! The heavily advertised NutriBullet is one example of a compact blender with a portable cup, but there are also many others, including a couple of models that come with non-plastic cups (see, for example, this Mason jar compatible smoothie maker).
2-in-1 smoothie & soup makers – Why get a regular blender, which only creates cold drinks/meals, if you can get a blender that also cooks? Known as soup makers, these new-generation blenders come with a heating element, which can also be turned off, so you can use them both for making hot soups and cold smoothies – great if you have limited space and like multi-tasking kitchen appliances! But before you rush to buy a soup maker, you should know that some models may not be strong enough to crush ice. So, if you like your smoothies very cold, look for a model that also crushes ice, such as the Cuisinart soup maker).
Inspiring Recipes
If you are creative, you don't really need recipes for making fruit smoothies. But for those of you who prefer tried-and-true recipes, there are plenty wonderful smoothie recipes out there, both online and offline. The Recipe of the Week feature in HealWithFood.org's Psoriasis Guide, for example, often features smoothie recipes, so be sure to make a visit to the Guide's home page a weekly habit. Or, if you prefer an offline source, check out the books listed below. Note, though, that the recipes in these books have not been specifically designed to fight psoriasis, so it is possible that some of them call for ingredients that are not good for people psoriasis.
Superfood Smoothies: 100 Delicious, Energizing & Nutrient-Dense Recipes – In Superfood Smoothies, recipe developer and New York Times best-selling author Julie Morris shares 100 extra-nutritious smoothie recipes using some of the world's most antioxidant-rich foods. Lucuma, hemp seeds, flax seeds and chia seeds are a few examples of "superfoods" that frequently pop up in this inspiring book. Available here from Amazon.
The Best Green Smoothies on the Planet – Some people believe green vegetables may be particularly good for psoriasis sufferers, which is why it is not surprising that many psoriasis sufferers have started to whip up so-called green smoothies (i.e. fruit smoothies jazzed up with green leafy vegetables). In The Best Green Smoothies on the Planet, green smoothie expert Tracy Russell delivers 150 accessible recipes for delicious smoothies that are packed with fresh fruits and vegetables – particularly leafy greens – that you can find at your local grocery store or farmers' market. She also reveals optimal flavor pairings (which green goes best with which fruit and which fruits blend best together) and provides nutrition information for each of the recipes featured in this fascinating book. Available here from Amazon.
Liquid Health: Over 100 Juices, Smoothies and Soups – Sure, drinking healthy homemade smoothies is one of the easiest ways to incorporate more fruits (and vegetables) into your diet, but also soups and fresh-pressed juices can help fill you body's daily needs for vegetables and fruits. In Liquid Health, holistic health care practitioner and cookbook author Lisa Montgomery serves up a collection of over 100 mouthwatering recipes for healthy liquid foods, including smoothies, juices and soups. To accommodate people with special dietary preferences, each recipe is marked as belonging to one of more of the following diets: raw (R), paleo (P), gluten-free (GF), or vegan (V). Available here from Amazon.
Studies cited:
1. L. Barrea (2015). Nutrition and psoriasis: is there any association between the severity of the disease and adherence to the Mediterranean diet? Journal of Translational Medicine, Jan 27, 13:18.
2. L. Naldi et al (1997). Dietary factors and the risk of psoriasis. Results of an Italian case-control study. British Journal of Dermatology, 134(1), 101-106.
3. H. Lithell et al (1983). A fasting and vegetarian diet treatment trial on chronic inflammatory disorders. Acta Derm Venereol, 63, 397-403.