Natural Remedies for Psoriasis: Anti-Psoriasis Soup Recipes
Here, you find recipes for healthy soups that are packed with psoriasis-fighting nutrients.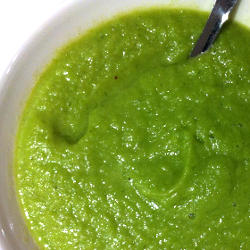 According to some psoriasis sufferers, dairy can make their psoriasis worse. For those who cannot consume dairy, there are tons of dairy-free alternatives to common dairy products such as milk, cream and cheese. When it comes to making creamy soups that are free from dairy, one of the best substitutes you can use is puréeed avocado! And, in addition to providing creaminess to your soups, avocados have anti-inflammatory properties, and they are chock-full of antioxidants and vitamins, too. In this simple soup, the creamy texture of avocado marries perfectly with broccoli, a nutrient-dense vegetable that is loaded with beta-carotene, vitamins C and K, folate and potassium.
► See Recipe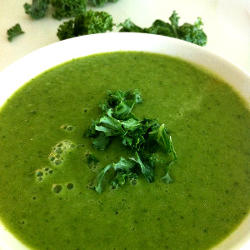 Here's another velvety green soup that gets its creaminess from avocado. In this super-nutritious vegan soup, creamy avocado comes together with kale, green peas and zucchini. Both kale and green peas are packed with psoriasis-fighting beta-carotene, vitamin C and vitamin K, while zucchini provides texture and more vitamin C. Lemon juice is added to the soup to give it depth and even more vitamin C, but if your psoriasis gets worse when you consume citrus fruits, you can skip the lemon juice.
► See Recipe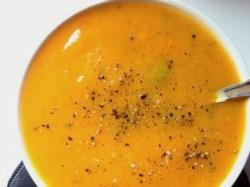 Some psoriasis sufferers find relief by avoiding potatoes and other nightshade vegetables such sweet peppers and chili peppers. It is important to know, however, that sweet potatoes are not a member of the nightshade (Solanaceae) family of plants. In fact, sweet potatoes, which are part of the Convolvulaceae family, are considered hypoallergenic. What's more, the orange- and yellow-fleshed varieties are packed with beta-carotene. These nutritious tubers also star in many recipes featured in Sarah Ballantyne's cookbook, The Healing Kitchen, which has been specifically created for people with autoimmune diseases such as psoriasis. Now, in this hearty soup, sweet potato is paired with ginger, a pungent anti-inflammatory spice that may also have anti-psoriatic properties (see Ginger and Psoriasis). Black pepper adds more flavor to this nightshade-free soup (and yes, black pepper is not a nightshade—see Psoriasis and Black Pepper).
► See Recipe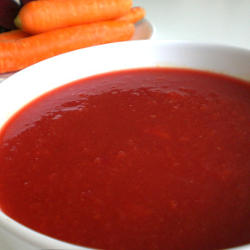 This recipe pairs carrots with beets to create a beautiful crimson soup that is naturally rich in anti-psoriasis nutrients. Beets are loaded with folate, a vitamin that is of particular importance to psoriasis patients, who typically have low serum levels of this nutrient. The carrots in this soup provide plenty of beta-carotene and vitamin C. Ginger and garlic are added to give this soup more character and to boost its anti-inflammatory potential.
► See Recipe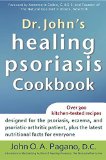 BOOK YOU MAY LIKE
Dr. John Pagano has gained international fame with his groundbreaking book,
Healing Psoriasis
(available
here
), in which he presents an all-natural regimen designed to control psoriasis symptoms without drugs or ultraviolet treatments.
Dr. John's Healing Psoriasis Cookbook
is the indispensable companion book to Healing Psoriasis. Weighing in at nearly 600 pages, this extraordinary cookbook provides over 300 kitchen-tested recipes designed for people suffering from psoriasis, psoriatic arthritis or eczema, plus plenty of general nutritional information and advice. To learn more about this cookbook, or to order your copy,
click here
.