10 Ways to Use Medjool Dates (Includes Raw Food Recipes)
Packed with fiber and minerals, Medjool dates and other dried dates are healthy when eaten in moderation. Another great thing about Medjool dates is that they are wonderfully adaptable to a range of culinary uses, lending their rich, sweet flavor and soft, chewy texture to both raw and cooked preparations. If you need ideas on how to use Medjool dates in baking, cooking or raw food preparations, keep reading because below you will find a number of easy recipes and clever ideas to help you incorporate more Medjools into your diet.
1. Eat Them Out of Hand
Pitted Medjool dates can be eaten out of hand as a quick snack. Or, you can dip them in melted chocolate to make a more interesting snack (use healthy dark chocolate with 85 percent cocoa). For an even more elaborate snack, consider sprinkling some superfood trail mix on top of the chocolate-covered dates when the chocolate is still warm (try this superfood trail mix which contains goji berries, raisins, almonds, chia, flax, pumpkin seeds and sunflower seeds).
2. Use Pureed Medjools to Make Healthier Cookies and Cakes
Date paste made of pitted Medjool dates and a small amount of water can be used as an alternative sweetener and thickener in some recipes. For example, if you want to make healthier sweet treats, you can try substituting date paste for some of the sugar and butter in recipes for cookies and spiced cakes. But take note: it may take some trial and error to get the substitution ratio right for a given recipe. If you prefer tried-and-true recipes, check out the Carla Kelly's cookbook Quick and Easy Vegan Bake Sale which has several mouthwatering recipes featuring date paste.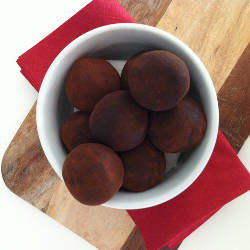 3. Make Raw Food Chocolate Truffles
Making raw food chocolate truffles is undoubtedly one of the most delicious ways to use Medjool dates. There are a lot of different raw food recipes for date-packed chocolate truffles out there, but the most basic recipe only calls for three ingredients: Medjool dates or regular pitted dates, soaked and drained nuts, and raw, unsweetened cacao powder. To make a batch of decadent raw food truffles, simply process 1 cup pitted dates, 1 cup soaked and drained nuts (cashews are great for this purpose) and 1/4 cup raw cacao powder in a small food processor until smooth, then roll the mixture into 1-inch balls and dust with cacao powder. Refrigerate the truffles for at least an hour prior to eating.
4. Use Medjools in No-Bake Pies
If you follow a raw food diet, yet another great way to use Medjool dates is to use them to make healthier pies. Not only do pureed dried dates make a great binder for no-bake pie crusts, they are also a key ingredient in many raw recipes for pie fillings. For pie and tart recipes that use dried dates both in the crust and the filling, get a copy of Ani's Raw Food Kitchen. Within the pages of this timeless raw food cookbook, you will find recipes for mouthwatering raw pies like All-American Apple Pie, Pecan Chai Pie on Cashew Crust, and Autumn Pumpkin Pie.
5. Use Them in Energy Bars
Homemade power bars are the perfect on-the-go snack for active people, and dried dates are a key ingredient in these energy-giving snack bars. Not only do dried dates sweeten homemade enery bars, but they also act as a binder. To make energy bars, simply combine 1 part nuts, 1 part pitted Medjools and 1 part other dried fruit in a food processor until they form a thick paste. Then, press the dough on parchment-lined tray until it forms a thick square. Wrap and refrigerate overnight. The next day, transfer the square to a cutting board, and cut the chilled dough into bars. Enjoy immediately or store in the fridge.
6. Add Medjool Dates to Smoothies
Adding some pitted Medjool dates or other pitted dates is great way to sweeten smoothies, particularly blended green smoothies which pair fruit with green leafy vegetables and are therefore less sweet than 100% fruit-based smoothies. When using dates in smoothies, keep in mind that dried Medjool dates are a concentrated source of sweetness, so a little really goes a long way.
7. Make Stuffed Medjool Dates
There are tons of different recipes for stuffed Medjool dates out there, but all stuffed Medjool dates have two things in common: first, they are super-easy to make, and second, they are sure to be a huge hit at any party. Here's how to make stuffed Medjool dates: First, make a lengthwise slit in each date and remove the pit. Then, stuff each date with a filling of your choice and gently squeeze to close. Here are a couple of ideas for healthy fillings:
Unsweetened nut butters (e.g. almond paste, cashew nut butter, macadamia nut butter)
Walnuts or almonds (consider dipping the nut-stuffed dates in melted dark chocolate)
Plain mascarpone cheese or mascarpone cheese flavored with vanilla and cinnamon
Plain ricotta cheese with whole almonds or halved walnuts
8. Make Date Sugar
While it is possible to buy date sugar online and in many health food stores, this all-natural whole food sweetener can be prohibitively expensive. The good news is that you can make your own date sugar by dehyhdrating pitted Medjool dates or regular pitted dates until they are very hard and dry, and then breaking them into sugar-like granules or powder using a coffee grinder or a high-powered food processor or blender. Whether homemade or store-bought, date sugar can be used as a substitute for regular sugar in many recipes for baked goods.
9. Use Medjool Dates in Savory Dishes
When we think of baking or cooking with Medjool dates, we typically think of recipes for sweet treats. But Medjools can also make a nice contrast in savory dishes like curries, salads, Moroccan-style slow-cooked stews, and Middle Eastern pilafs.
10. Freeze the Remaining Dates
If you've still got leftover dates and don't know what to do with them, not to worry: you can always freeze them for later use in smoothies etc. As they are high in sugar and low in water, dried Medjool dates freeze well without losing much of their texture. To freeze Medjools, simply pack them in freezer-safe bags or containers, and pop the bags or containers in the freezer. Use your frozen Medjool dates within a year from freezing.
A Cookbook with Date Recipes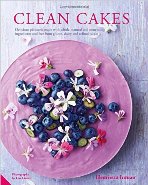 In
Clean Cakes
, pastry chef Henrietta Inman serves up a collection recipes for delicious cakes, pies, muffins and more. Her recipes focus on whole food ingredients that are unrefined, natural, seasonal and local wherever possible. Some of the natural sweeteners that keep popping up in this inspiring cookbook include dates and date syrup, fresh and dried fruits, raw honey, coconut sugar, palmyra nectar powder, coconut nectar, maple syrup and sweet vegetables. Available from:

Amazon.com

Amazon.co.uk

Amazon.ca
Don't Miss This

Up Your Kitchen Game with a Teflon-Free Muffin Pan
If you don't like Teflon-coated muffin pans, be sure to check out these pans.
More to Explore