Recipe Ideas
10 Ways to Use Cauliflower Rice in Cooking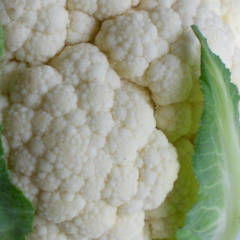 One of the most exciting ways to reap the health benefits of cauliflower is to turn this wonderful vegetable into cauliflower "rice", a nutritious low-carb alternative to real rice. To make cauliflower rice at home, simply grate some rinsed and drained cauliflower florets like you would a block of cheese, using either a food processor fitted with the shredding disc or an old-fashioned box grater. Or, pulse the florets in a food processor with chopping blade. And if have no time to make it yourself, not to worry: riced cauliflower has become so popular that you can also buy this mock rice at some grocery stores.
But what can you do with cauliflower rice? While making cauliflower rice at home or buying a bag of the pre-chopped stuff is easy, many people are stumped about how to cook and eat their cauliflower rice. If you are lacking ideas on how to use cauliflower rice in cooking, read on for some inspiring ideas and mouthwatering recipes.
1. Make Fried Cauli-Rice
Fried rice is a takeaway classic, but it doesn't exactly qualify as a wholesome meal. The good news is that you can make this takeaway dinner favorite more nutritious by using cauliflower rice instead of white rice. Here's a basic recipe that you can tweak to make your own version by using vegetables of your choice:
Heat 3 tablespoons of olive oil in a large skillet or wok over medium low heat.
Add 3 minced garlic cloves, and cook until the garlic begins to brown.
Add 3 cups of cauliflower rice and other finely chopped, fast-cooking vegetables like green onions, if using. Stir-fry quickly, then push to the side.
Turn the heat down, and pour 2 beaten eggs in the middle of the skillet or wok. Stir gently until the eggs are fully cooked.
Combined the cooked, scrambled eggs and the cauliflower rice, and stir in 1 tablespoon of soy sauce. Serve warm.
2. Use Cauliflower Rice in Sushi Rolls
Next time you feel like making and eating some homemade sushi, why not try sushi rolls filled with cauliflower rice? The only problem with using cauliflower rice instead of regular sushi rice in sushi recipes is that cauliflower rice is not naturally sticky, so you will have to add an ingredient or two that add stickiness. In his cookbook The Paleo Chef, acclaimed international chef and television personality Pete Evans shares his secret to making sticky cauliflower rice: mix in some avocado and a little tahini!
3. Stuff Vegetables with Cauliflower Rice
Stuffed peppers, mushrooms, zucchini and tomatoes may be appetizing, but the white rice used to make the stuffing is not exactly nutritious. So why not give your favorite recipe for stuffed vegetables a makeover by using cauliflower rice instead of regular white rice to create a more nutritious side dish?
4. Use it to Make a Grain-Free Pizza Crust
One of the most exciting things you can do with cauliflower rice is to use it in a pizza dough to make a grain-free, Paleo-friendly pizza crust. There are tons of different cauliflower pizza crust recipes out there, but many of them are quite complicated. Here's an easy recipe even the worst cook can master:
Preheat the oven to 400°F. Spread out 3 cups of cauliflower rice on a rimmed baking pan lined with parchment paper or an oven-safe baking mat.
Put the baking pan in the oven and roast the cauli-rice, tossing occasionally with a spatula, until it is tender, about 20 to 25 minutes.
Take the pan out of the oven and transfer the roasted cauliflower rice into a clean dish towel or cheesecloth. Wrap up the rice, and squeeze out as much moisture as possible over a sink.
Put the drained rice in a bowl, along with 1 egg, 2 tablespoons of almond meal, ¼ teaspoon of garlic powder, 1 teaspoon of dried oregano, ¼ teaspoon of salt and 1 tablespoon of olive oil. Using your hands, mix until fully combined.
Transfer the dough to a parchment-lined baking sheet, and form into an circle about ¼ inch thick.
Bake for 25 minutes, or until the crust is firm and golden brown. Remove from the oven, and add pizza toppings of your choice. Bake for 6 to 8 more minutes.
5. Make Gluten-Free, Paleo-Friendly Burritos
Break out of your burrito rut by replacing the wheat tortilla with raw collard greens and the white rice in the filling with raw or stir-fried cauliflower rice. If you make sure also the other ingredients in your burrito filling are caveman-approved, your tortillas will make a great Paleo-friendly meal, perfect for both lunch and dinner.
6. Substitute Raw Cauliflower Rice for Couscous in Salad Recipes
The best food processors for making cauliflower rice allow you to produce "grains" of different sizes, including very small pieces that actually resemble more couscous than rice. Not surprisingly, this type of extra-fine cauliflower rice makes a perfect substitute for couscous (or bulgur), especially in salad recipes. For best results, use raw cauliflower rice.
7. Make Low-Carb Mock Risotto
Swap out arborio, the traditional risotto rice, for cauliflower rice the next time you make risotto. Not only will your faux risotto be low in carbs, it will also be a cinch to prepare because cauliflower rice cooks much faster than arborio rice. Here's how to make cauliflower risotto featuring spring vegetables:
In a high-sided sauté pan over medium heat, cook ½ cup of chopped shallots in some extra-virgin olive oil until tender.
Add 4 cups of cauliflower rice, along with 2 minced garlic cloves, and sautee for two more minutes.
Deglaze the pan with ¼ cup of dry white wine and cook, stirring constantly, until the wine has evaporated.
Stir in ½ cup of sliced asparagus and ½ cup of thawed frozen peas.
Add ½ cup of homemade chicken stock and ½ cup of heavy cream, and cook, stirring frequently, until the cauliflower is tender, about 5 to 8 minutes.
Turn off the heat and mix in ½ cup of grated Parmesan cheese, 3 tablespoons of chopped fresh parsley, and 2 teaspoons of lemon zest.
Taste the risotto and add salt and freshly ground black pepper as needed. Serve warm. This recipe yields about 4 servings.
8. Use Cauliflower Rice to Make Paleo Paella
Paella is a traditional Spanish rice dish that typically features vegetables, meat or seafood, and spices like paprika and saffron. But just like traditional risotto, traditional paella is high in carbs, and it takes a long time to cook. Cauliflower rice to the rescue! Replace the white rice in your favorite paella recipe with cauliflower rice, reduce the amount of liquid the recipe calls, and you'll have a grain-free paella ready in half an hour! Or, if you prefer a tried-and-true recipe, check out the cauliflower rice paella recipe in Quick & Easy Paleo Comfort Foods (this awesome cookbook also features a couple of other recipes that use cauliflower rice including Bacon and Okra Pilau, Quick Beef Curry and Lime and Coconut Chicken "Rice").
9. Replace Other Ingredients with Cauliflower Rice in Veggie Burger Recipes
Savory and nutritious, a good veggie burger is always a hit. And the great thing about a good veggie burger recipe is that you can usually tweak the recipe to accommodate whatever vegetables you happen to have in your fridge. So, if you have a lot of riced cauliflower on hand, why not replace some of the other chopped or grated vegetables with cauliflower rice in your favorite veggie burger recipe? Note though, that depending on what you replace, you may need to adjust the amount of liquid the recipe calls for as well.
10. Freeze It for Later Use
If you still don't know how to get rid of all that cauliflower rice in your fridge after considering all the ideas and recipes on this page, not to worry: you can always freeze your cauliflower rice, and cook and eat it later. To freeze cauliflower rice, simply put the rice in freezer-safe bags, squeeze out as much air as possible, and seal. Flatten and label the bags, and pop them in the freezer.
Don't Miss This

Quest for the Best Electric Spiralizer (Zoodle Maker)
Electric spiralizers are all the rage, but how do you pick the best model?
More to Explore
Book You May Like

Created by bestselling author and certified nutrition consultant Diane Sanfilippo,
Practical Paleo
is a real treasure trove for anyone looking for a comprehensive and practical guide to the Paleo lifestyle. In addition to explaining the theory behind the Paleo diet, this extraordinary book provides over 120 whole food recipes as well as 30-day Paleo meal plans designed to tackle common health conditions. To learn more or to order a copy, go to:

Amazon.com

Amazon.co.uk

Amazon.ca