10 Ways to Prepare and Use Cauliflower (Plus Easy Recipes)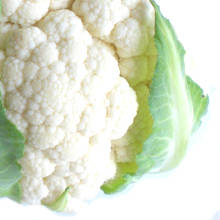 Not only is cauliflower good for you, it is also an incredibly versatile vegetable that can be turned into everything from vegetarian "steaks" to faux rice to mock buffalo wings! Read on for 10 smart ways to use cauliflower to make healthy snacks, meals and drinks. And, if you need even more ideas and recipes on how to cook and eat cauliflower and other Brassica vegetables, be sure to check out Laura Russell's extraordinary cookbook Brassicas: Cooking the World's Healthiest Vegetables.
1. Incorporate Cauliflower into Veggie Burgers
Nutritious and flavorful, veggie burgers are a great addition to any meal. And one of the best things about veggie burger recipes is that you can usually tweak them to accommodate whatever vegetables you have on hand. So, if you have a lot of cauliflower in your fridge and you like the idea of having meat-free patties for lunch or dinner, why not use the cauliflower to replace some of the other vegetables in your favorite veggie burger recipe? Just keep in mind that if you use cauliflower as a substitute for vegetables with a very different water content, you may need to adjust the amount of liquid in the original recipe.
2. Make Buffalo Cauliflower "Wings"
Buffalo cauliflower "wings" are a healthy alternative to traditional buffalo chicken wings, and they are a cinch to make. Here's a simple recipe for tasty homemade cauliflower buffalo bites that you can eat without guilt:
Preheat the oven to 450°F. Line a rimmed baking sheet with parchment paper or an oven-safe silicone mat.
In a large bowl, combine 1 cup of water, 1 cup of flour of your choice, 2 teaspoons of garlic powder, 1 teaspoon of paprika powder and 1/4 teaspoon of salt.
Add 6 cups of bite-sized cauliflower florets, and toss to coat.
Spread out the coated cauliflower bites on the prepared baking sheet, and bake in the oven for 15 to 20 minutes, or until tender-crisp.
While the cauliflower is baking, combine 3 tablespoons of your favorite hot sauce and 3 tablespoons of extra-virgin olive oil in a small bowl. Season with salt and pepper.
Pour the hot sauce mixture over the cauliflower bites, and continue baking for an additional 5 minutes.
3. Make Cauliflower "Rice" and Use it as a Substitute for Real Rice
Many health food enthusiasts like to use cauliflower rice in recipes that traditionally use real rice because this mock rice is lower in carbs and higher in many important nutrients than real white rice. If you want to give this trendy rice substitute a try, don't bother buying it at a grocery store — it is so easy to make cauliflower rice at home! Just grate fresh cauliflower florets the same way you would grate cheese, or process the florets into cauliflower rice in a food processor. And, while you are at it, why not make a few extra portions that you can store in the freezer for later use? To freeze cauliflower rice, all you have to do is put the cauliflower rice in freezer-safe Zip-lock bags, squeezing out as much air as possible, and then pop the bags in the freezer.
4. Serve Mashed Cauliflower as a Side Dish
Making mashed cauliflower is one of the easiest ways to use up a large amount of cauliflower, and creamy mashed cauliflower a perfect side dish to almost any meal. To make mashed cauliflower, all you have to do is steam some fresh or frozen cauliflower florets until tender, puree the florets using a hand blender, and season with salt. You can also adjust this basic recipe to suit your taste buds by pureeing other vegetables like potatoes, sweet potatoes, carrots or Jerusalem artichokes together with the cauliflower.
5. Use Cauliflower Rice to Make Grain-Free Pizza
Cauliflower pizza crust has become a real hit among many low-carb dieters and Paleo people, and there are tons of different pizza dough recipes out there that use cauliflower rice to replace the flour. Unfortunately, however, many of those recipes are complicated and call for a lot of ingredients. If you like to keep things simple, here's an easy cauliflower pizza crust recipe for you to try:
Preheat the oven to 400°F. Line a baking sheet with parchment paper or an oven-safe silicone mat.
Spread 3 cups of riced cauliflower on the baking sheet and put in the oven. Roast for about 20 to 25 minutes, tossing occasionally, until the cauliflower rice is tender. Remove from the oven and let cool.
Transfer the cauliflower rice into a clean, thin dishtowel. Then, wrap it up and squeeze all the excess moisture out.
Next, put the rice in a bowl, along with 1 egg, 2 tablespoons of almond meal, ¼ teaspoon of garlic powder, 1 teaspoon of dried oregano, ¼ teaspoon of salt and 1 tablespoon of olive oil. Using your hands, mix until thoroughly combined.
Press the dough out onto a baking sheet lined with parchment paper, keeping the dough about 1/4-inch thick.
Bake until the crust is firm and golden brown, about 25 minutes.
Remove the pizza crust from the oven, and load it up with your favorite toppings. Return to the oven, and bake an additional 6 to 8 minutes.
6. Eat Raw Cauliflower Florets as a Healthy Snack
Spend a few minutes in the morning rinsing and cutting a head of cauliflower into bite-sized pieces, and store the sticks in the fridge, or pack them in a lunch box and take to work or school. Then, when you feel like having a crunchy snack later in the day, reach for your cauliflower bites and eat them just like that or with a healthy dip.
7. Use Cauliflower in Vegetable Soups
Yet another great way to use cauliflower is to add it to soups. If you already have a good recipe for a vegetable soup, you can use that and just replace some of the other vegetables in the recipe with cauliflower. If you don't have one, try this easy recipe:
Trim and rinse 1 pound (about 450 grams) of raw vegetables of your choice (including some cauliflower). Chop the vegetables, or cut them into small cubes.
In a stock pot, fry the chopped or cubed vegetables in 1 tablespoon of olive oil for a few minutes, then cover with 3 cups of stock.
Simmer until the vegetables are tender, about 10 to 25 minutes
Set aside, and blend with a hand blender until smooth. Season with freshly ground black pepper and salt.
8. Cook Cauliflower "Steaks" on the Grill
Grilling is one of tastiest ways to cook steaks — including cauliflower "steaks"! Below you find a simple recipe that turns a whole cauliflower head into flavorful vegetable "steaks" that even the most die-hard meat-eaters can appreciate. Note, though, that you only get a few steaks per head of cauliflower, but the good thing is you can reserve the trimmings for another use, so no food goes to waste.
Prepare a gas or charcoal grill for medium heat.
Cut a cauliflower head crosswise to make two 1-inch thick planks.
In a small bowl, mix ⅓ cup of olive oil, and 2 minced garlic cloves and 1 teaspoon of paprika powder.
Lightly brush both sides of each raw cauliflower steak with the olive oil a mixture, and sprinkle on a little salt and pepper.
Grill the cauliflower steaks for about 4-5 minutes per side, or until done to your liking (use a fork to test for doneness). Serve warm.
9. Juice the Cauliflower Stems
It is easy to come up with ideas for using cauliflower florets, but what do you do with the hard stems? You send them through your juicer, of course! Using cauliflower stems or any other leftover bits for homemade juices is a clever way to use up food that might otherwise go to waste and to add a healthy kick to your vegetable and fruit juices. Fruits and vegetables that pair particularly well with cauliflower in juices include carrots and apples.
10. Freeze Excess Cauliflower for Later Use (but Cook it First)
If you have a lot of fresh cauliflower and not enough recipes to use it all up, consider freezing your cauliflower and cook and eat it later. Note, though, that before storing raw cauliflower in the freezer, you have to blanch it in boiling water or steam in order to inactivate enzymes that cause vegetables to develop off-flavors and lose color, texture and nutrients when stored in the freezer for a longer period. Here's how to successfully blanch and freeze fresh cauliflower:
Blanch trimmed and rinsed cauliflower florets by cooking them in boiling water for 3 minutes, or by steaming them for 4½ minutes.
Drain, and toss into a large bowl filled with cold water and ice cubes — this will halt the cooking process and prevent over-blanching.
Let the cauliflower florets chill in the ice-water bath for the same amount of time they were blanched, then drain in a colander.
Lay the florets on a parchment-lined baking pan, side by side, and place the pan in the freezer. When the florets are frozen, transfer them to freezer-safe bags or containers, and pop them back into the freezer.
Don't Miss This

BPA-Free Food Steamers Sold in the US, UK and Canada
Looking to buy an electric food steamer that's free of BPA? Check out these tips.
More to Explore
Book You May Like

Even though the health benefits of Brassica vegetables have been documented in numerous studies, many home cooks still find these green veggies a little intimidating. In
Brassicas: Cooking the World's Healthiest Vegetables
, Laura Russell teaches home cooks how to bring out the wonderful flavors of these super-veggies without burying them under unhealthy ingredients like cheese. Brussels sprouts, for example, develop a wonderful sweet flavor when they are roasted, while watercress comes into its own in salads that can benefit from a little peppery kick. To learn more, or order a copy, go to
Amazon.com
,
Amazon.co.uk
or
Amazon.ca
.