Mango & Banana Smoothie with Turmeric Powder
Makes 2 servings
Fresh mango, coconut milk and apple come together in this Indian-inspired vegan smoothie. The freshly-grated turmeric root makes this vegan blend extra-healthy, and the frozen banana gives it a smooth, velvety texture. Thanks to the frozen banana, you also won't need ice cubes or crushed ice for this refreshing fruit smoothie.
Cook's Note: If you don't want to end up with a brick of frozen banana chunks that will need to be chipped apart before they can be used, you should go through the following steps when freezing bananas for smoothies: First, peel the bananas and cut them into bite-size chunks. Next, arrange the chunks in a single layer on a parchment-lined baking pan, and place the pan in the freezer. Once the chunks are completely frozen, transfer them to freezer-safe bags or containers.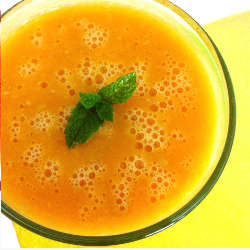 Ingredients
⅔ cup coconut milk
1 ripe mango, peeled and diced
1 apple, rinsed, cored and diced
1 tsp fresh, finely grated turmeric
1 banana, peeled, sliced and frozen
1 cup water (approx.)
Directions
Put all of the ingredients in a blender in the order listed above.
Process until smooth and creamy, stopping to scrape down sides and to check the consistency. If the mixture seems too thick, add water accordingly.
Pour into glasses, and garnish as desired. Serve with with eco-straws made of stainless steel, borosilicate glass or bamboo!
Don't Miss This
BPA-Free: Food Dehydrator with Stainless Steel Trays
Getting a food dehydrator with stainless steel may help reduce your exposure to harmful chemicals such as bisphenol-A.
More from HealWithFood.org
Book You May Like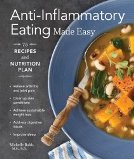 Michelle Babb is a registered dietitian and certified nutritionist, and she holds a master's degree in nutrition from Bastyr University. In
Anti-Inflammatory Eating Made Easy
, this Seattle-based nutrition expert showcases 75 easy anti-inflammatory recipes, so whether you're an accomplished cook or a complete beginner, you'll be able to create healthy meals that are loaded with anti-inflammatory ingredients. With chapters on Breakfast Dishes, Soups & Stews, Salads and Sides, Vegetarian Mains, Pescatarian Mains, Hint-of-Meat Mains, and Sesserts, there's something here for any time of the day. To learn more, click
here
.