Superfood Muffins with Blueberries, Acai Powder and Walnuts (Gluten-Free)
Yields about 8 muffins
These low glycemic, gluten-free superfood muffins combine two of the best natural sources of anthocyanins: blueberries and acai berries. Anthocyanins, as you may know, are flavonoid pigments that not only give many blue, red and purple berries their intense colors but that also give these berries exceptionally strong antioxidant qualities.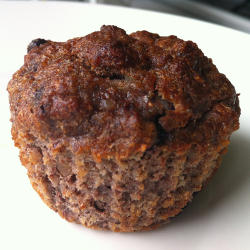 Walnuts, the third star of these super-healthy muffins, are also a top-notch source of antioxidants. A study published in The Royal Society of Chemistry's journal Food and Function in 2011 analyzed the antioxidant content and potency of various types of nuts and found that among the tested nuts, walnuts had both the highest levels of antioxidants and the strongest antioxidant capacity.
Antioxidant benefits aside, these superfood muffins are also high in fiber and protein thanks to the almond meal and eggs they contain. The high levels of protein and fiber, combined with the absence of added table sugar and wheat flour, also ensure that these muffins have a gentle impact on your blood sugar levels compared with most other muffins.
As these muffins contain no table sugar or other highly processed sweeteners, it is important that you use overripe bananas for this recipe to get results that are sweet and flavorful enough. Unripe and ripe bananas – the kind that you usually find in the supermarkets – have a higher starch content and lower sugar content than overripe bananas, which makes them less sweet and less flavorful. Therefore, it is a good idea to buy the bananas for this superfood muffin recipe a few days in advance and let the fruit ripen on the countertop. Best results are obtained when the bananas have already developed black spots on their skins – a sure-tell sign that they are extra-sweet and overripe!
Not only have these Blueberry, Acai and Walnut Muffins been sweetened with all-natural ingredients, such as overripe bananas and honey, they are also free from chemical leavening agents such as baking powder. Yet, they somehow manage to be soft and fluffy! The secret? Separating the egg whites from the yolks, and whipping the whites into a light, airy foam! The egg white foam, which is folded into the batter at the end of the mixing process, gives the batter enough air bubbles to make the muffins moist and fluffy.
Ingredients
3 eggs
2 ounces (55 grams) walnuts
7 ounces (200 grams) unblanched almond meal
2 overripe bananas, peeled and mashed
2 Tbsp coconut oil
1 ½ Tbsp honey
1 tsp pure vanilla powder*
1 ½ tsp acai berry powder*
1 tsp cinnamon
4 ½ ounces (130 grams) blueberries
*If you have trouble finding these items at regular grocery stores, you can always order them online: pure vanilla powder can be purchased here and acai powder can be purchased here.
Directions
Separate the egg whites and yolks and set aside. Roughly chop the walnuts.
In a medium bowl, combine the egg yolks, chopped walnuts, unblanched almond meal, mashed bananas, coconut oil, honey, vanilla powder, acai berry powder and cinnamon to form a smooth batter. Gently mix in the blueberries.
Using a mixer, whisk the egg whites on high until soft, white peaks form. Then, gently fold the egg white foam into the muffin batter using a rubber spatula.
Spoon the mixture into into a muffin tin lined with paper liners, and bake in a pre-heated oven at 350°F (Gas Mark 4, or 175°C) for about 25 to 35 minutes, until a toothpick comes out clean.
Book You May Like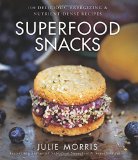 Who says snacks and desserts have to be unhealthy? In
Superfood Snacks
, recipe developer and New York Times best-selling author Julie Morris shares 100 creative recipes that transform "guilty" pleasures into healthlicious snacks that are loaded with nutrients. Julie's inspiring recipes feature health food staples like bananas, quinoa and oats, as well as exotic superfoods like chia seeds, acai berries, goji berries, maqui beries, hemp seeds and camu camu. Jam-packed with stunning photography to whet your appetite, this 200-plus page collection of healthy treats is available through
Amazon.com
,
Amazon.co.uk
and
Amazon.ca
.
Sponsored Links / Ads
More Recipes