How to Make Cauliflower Rice with the Veggie Bullet
This recipe yields about 4 cups of cauliflower rice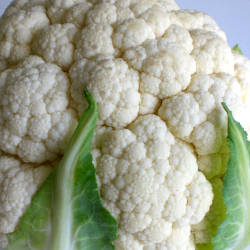 Cauliflower rice, also known as cauli-rice or riced cauliflower, has become a popular low-carb alternative to real rice among health-conscious foodies. One of the easiest ways to make cauliflower rice at home is to process rinsed and drained cauliflower florets into rice-like bits using a regular food processor or the Veggie Bullet. Below, we provide step-by-step instructions on how to make cauliflower rice with NutriBullet's Veggie Bullet. For those who missed the memo, the Veggie Bullet is a trendy 3-in-1 vegetable processor from the makers of the famous NutriBullet. Equipped with a powerful motor and sharp stainless steel blades, the Veggie Bullet spiralizes, shreds and slices vegetables and other foods (when you make cauliflower rice, the shredding function is important).
What You'll Need
1 large head of cauliflower
Veggie Bullet with shredding disc
Mixing bowl for catching the rice
How to Make It
Remove the leaves and the core (but keep them for another use; they are packed with nutrients!).
Break the rest of the cauliflower into small florets that fit into the chute of the Veggie Bullet.
Rinse the florets thoroughly under cold running water and drain excess moisture by patting them dry with paper towels.
Assemble the Veggie Bullet for shredding. Don't forget to place a separate mixing bowl under the shooter.
Turn on the Veggie Bullet and send the cauliflower florets through the chute. The Veggie Bullet will shoot the cauliflower rice directly into the mixing bowl.
Use your cauliflower rice right away, or freeze it for later use.
How to Use It
There are tons of different ways to use cauliflower rice, whether you are using store-bought cauli-rice or cauliflower rice made with the Veggie Bullet, a food processor, or an old-fashioned box grater. One of the most popular ways to use cauliflower rice to stir-fry it with a little bit of garlic, but you can also use this versatile ingredient to make a grain-free pizza crust, stuffed vegetables, paleo-friendly burritos or veggie burgers. Or, try substituting cauli-rice for real rice in recipes for risotto or paella!
The great thing about making cauliflower rice in a food processor or using an another motor-operated shredding or chopping device, such as the Veggie Bullet, is that you can effortlessly make a big batch while you are at it, and store some of the veggie rice for later use. Depending on when you plan to use it, you can choose to freeze your cauliflower rice or store it in the fridge for up to a couple of days.
Sponsored Links / Ads
Don't Miss This

Purple Cauliflower: Healthy, Tasty & Not GM
Get the skinny on purple cauliflower which is popping up in grocery stores.
More to Explore