Quest for the Best Food Processor for Making Cauliflower Rice
Making cauliflower rice, also known as riced cauliflower or cauli-rice, is one of the healthiest ways to use cauliflower. Made by processing raw cauliflower florets into rice-like granules, cauliflower rice has become a popular side dish and ingredient among low-carb dieters and Paleo folks. Today, you can buy cauliflower rice in many grocery stores, but it is also easy to make this mock rice at home, and there are tons of recipes for riced cauliflower out there. If you like the idea of making it yourself rather than buying it, the best thing you can do is get a good food processor equipped with a blade that chops or shreds cauliflower into rice-like bits. To learn more about how to pick a food processor for making cauliflower rice, read on.
The Best Food Processors for Making Cauliflower Rice Have Several Blades to Choose From
With so many different models out there, finding the best food processor for making cauliflower rice is a difficult task. What's more, there are several food processor blades that can be used to make cauliflower rice, and each blade produces a slightly different texture. This does not mean that one blade is better for making cauliflower rice than another blade; whether you make your cauliflower rice with the S-blade or one of the shredding blades is mainly a question of personal preference. However, it is also important to take into consideration how you plan to cook or eat your cauliflower rice when trying to figure out which blade you should use for making cauliflower rice.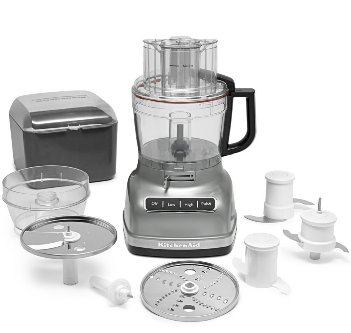 The best food processors for making cauliflower rice come with all three blades that are commonly used to make cauliflower rice, so you can experiment with different techniques and blades to find out what works for your purposes. A good food processor for making cauliflower rice also has a sufficiently large bowl because a single head of cauliflower can easily yield up to six cups of "rice". Also a large chute is a plus because you can add in larger cauliflower florets without having to cut them into smaller pieces first.
The KitchenAid KFP1133CU 11-cup Food Processor (pictured on the right) has all the earmarks of a top cauliflower rice food processor: it has an extra-wide chute, it has received excellent reviews on Amazon, and most importantly, it has all the blades that are commonly used to make cauliflower rice. Here's an overview of these blades:
Chopping blade (aka S-blade). Pulsing cauliflower in a food processor with a chopping blade is the fastest method to make cauliflower at home, and it results in very uniform, cube-like pieces of cauliflower rice. When using the chopping blade, you'll have to be careful not to over-process, unless you want your "rice" to be extremely watery and have an extra-strong cauliflower smell.
Large-hole shredding blade. The large-hole shredding blade, which may also be called the medium-hole shredding blade depending on the brand, creates oblong pieces that imitate the texture of real rice extremely well. Unlike the chopping blade, the shredding blade sits on top of the bowl rather than in it. What you have to do is send the cauliflower florets through the chute on the lid, and when the florets hit the blade, they will turn into beautiful cauli-rice and then fall into the bowl of the food processor.
Medium-hole shredding blade. Many people think the large-hole shredding blades or discs make the best cauliflower rice, but depending on your personal preferences and what you plan to do with your riced cauliflower, you may also want to use the medium-hole shredding disc (sometimes called the small-hole shredding disc). In the KitchenAid KFP1133CU food processor, the medium-hole shredding blade is not a separate blade but it has been integrated into the 2-in-1 reversible shredding blade.
Other Good Tools for Making Riced Cauliflower
Like food processors that make cauliflower rice, spiralizers aka vegetable pasta makers are all the rage among health-conscious people looking to incorporate vegetables into their diets. With a regular manual, hand-crank spiralizer, vegetables like zucchini and carrots turn into noodle-like strands in seconds. Some of the newer spiralizers come with a motor which eliminates the need for manual cranking, and some of the best electric spiralizers even have a grating disc, in addition to the spiralizing disc, which means they can also be used to grate cauliflower to make cauli-rice!
Take the Hamilton Beach 3-in-1 Spiralizer, for example. Not only does this multi-purpose kitchen tool turn vegetables like zucchini, turnips, yellow squash, sweet potatoes, carrots, beets into imitation noodles, it can also be used to turn vegetables into spiral ribbons and to grate or shred foods.
Of course, you can also make cauliflower rice without a food processor or a spiralizer that also grates foods. The cheapest tool for making cauli-rice is an old-fashioned stainless steel box grater. Using a box grater to process cauliflower requires a little more elbow grease, but it is a good option if you plan to make cauliflower rice only occasionally and if you don't have a big family to feed.
Sponsored Links / Ads
Don't Miss This

Best Bread Machines with Gluten-Free Programs
Looking for an automatic breadmaker with a gluten-free program? Look no further!
More to Explore