Need Gluten-Free Recipes Without Xanthan and Guar Gums?
In gluten-free baking, xanthan gum and guar gum serve the same purpose as gluten in conventional baking, that is, to thicken dough and batters, and to trap air bubbles to make your baked goods light and fluffy. But in Against the Grain, a gluten-free cookbook featuring recipes that use no gums, Nancy Cain argues that these nutrient-poor thickeners and binders are not all that necessary for the creation of scrumptious, gluten-free cakes, pies, breads and muffins.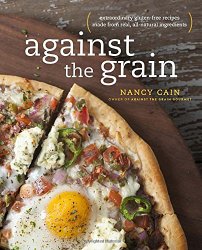 Against the Grain – A Cookbook That Features No Guar or Xanthan Gum
For the millions of people suffering from celiac disease or some other form of gluten intolerance, gluten-free cookbooks can be a wonderful source of inspiration in the kitchen. Unfortunately, however, many of these cookbooks feature recipes that call for expensive, ready-made baking mixes or nutrient-poor ingredients such as xanthan gum or guar gum. After trying ready-made gluten-free flour mixes and finding the results rubbery and tasteless, Nancy Cain, the mother of a celiac child, started experimenting with all-natural gluten-free ingredients, which eventually led to the launch of Against the Grain Gourmet, a line of gluten-free breads and pizzas available at supermarkets and natural food stores nationwide.
In 2015, her first cookbook, Against the Grain: Extraordinary Gluten-Free Recipes Made from Real, All-Natural Ingredients, hit the bookstores. In this extraordinary 400-page cookbook, Cain provides 200 gluten-free recipes using all-natural, easy-to-find ingredients to create airy breads, scrumptious baked goodies, and mouthwatering main dishes. Instead of using special gluten-free flour mixes packed with fillers and additives, she uses simple, all-natural flours such as buckwheat flour and brown rice flour. She also consider xanthan hum and guar gum, which are commonly used as binders in gluten-free baking, unnecessary in most cases. She does, however, acknowledge the importance of using a non-starch gel or binder as an egg replacer, but in such a situation, her go-to binder is a chia seed or flaxseed based flurry. Not only are chia seeds and flax seeds natural binders, they are also packed with fiber, protein and nutrients (unlike xanthan gum and guar gum!).
Against The Grain is divided into eight main sections:
The Fundamentals of Gluten-Free Baking
Traditional Breads and Flatbreads
Quick Breads, Breakfast Foods and Muffins
Savories
Cookies and Bars
Cakes
Pies and Desserts
Recipes Featuring Pre-Made Breads
In the first main section, The Fundamentals of Gluten-Free Baking, you will learn what role the different ingredients play in the baking process, what pans and tools make gluten-free baking easier, and how to stock up a gluten-free pantry. Here, you will also find an overview of common grains and non-grains that can be used in gluten-free baking, as well as ample information about how the way you combine ingredients, the sequence in which you perform certain steps, the timing, the proofing environment, and the way you use the oven can influence the texture of your gluten-free creations.
The rest of the book is dedicated to all-natural, gluten-free recipes that feature neither xanthan gum nor guar gum. Fluffy Buckwheat Pancakes, Vegan Carrot Muffins, Cashew "Cheesecake", Maple Walnut Squares, Potato Rosemary Bread, Cranberry Date Bars and Breakfast Pizza are just a few of the exciting recipes you'll find inside this inspiring gluten-free cookbook.
To learn more or order a copy, head to Amazon.com, Amazon.co.uk or Amazon.ca.
Sponsored Links / Ads
You May Also Like

Comparison of Omega-3 Enriched Eggs vs Regular Eggs
Do the so-called omega-3 eggs really contain more omega-3s than regular eggs? Let's find out.
More Cookbooks