Green Smoothie with Ginger, Spinach and Flaxseed
Makes 2 servings
Get out of your smoothie rut with this alluring recipe that pairs nutrient-rich baby spinach with mango and banana to create a gorgeous green smoothie that is sure to tickle your taste buds. Ground flaxseed and fresh ginger, both of which contain anti-inflammatory compounds, are added to the mix to further boost its health-giving properties.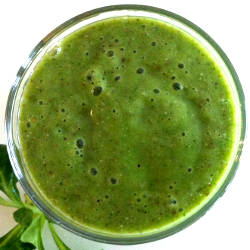 Ingredients
About 1 ⅔ cups water and/or non-dairy milk of your choice
1 small banana
1 small mango
2 cups baby spinach
1 tsp grated fresh ginger
1 Tbsp ground flaxseed
8 ice cubes
Directions
Peel, rinse, pit and cut the ingredients as needed, and put them in a high-powered blender in the order listed above.
Secure the lid and process in short bursts until the ice cubes have been thoroughly crushed. Then, slowly increase the speed, and blend at full speed for about 1 minute, or until the smoothie is very smooth and homogenous in color. Add water if needed to adjust the consistency.
Don't Miss This

How to Make a Kale Smoothie That Actually Tastes Good
Tips on how to make kale smoothies taste good, plus a yummy recipe.
More from HealWithFood.org
Book You May Like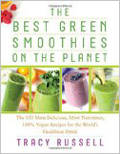 In
The Best Green Smoothies on the Planet
, smoothie expert Tracy Russell delivers 150 accessible recipes for delicious smoothies that are packed with fresh fruits and vegetables – particularly leafy greens – that you can find at your local grocery store or farmers' market. She also reveals optimal flavor pairings (which green goes best with which fruit and which fruits blend best together) and provides nutrition information for each of the recipes featured in this fascinating book. To learn more, or to order your copy today, visit
Amazon.com
,
Amazon.co.uk
or
Amazon.ca
.