Weekly Smoothie Challenge
Kiwi Mango Cucumber Smoothie with Hemp Seeds
Makes about 4.5 cups
This refreshing kiwi, mango and cucumber smoothie could earn a well-deserved place in your regular diet, it's so delicious – and it's good for you, too. The mango and kiwi treat your body with a good dose of vitamin C, and the cucumber provides plenty of vitamin K (to maximize the vitamin K content of this smoothie, don't peel the cucumber before adding it to the blender).
To ensure your body also gets some of those healthy omega-3 fatty acids, this smoothie also features hemp seeds which are one of the best plant-based dietary sources of omega-3s (perfect for vegans!). In addition to providing these essential fatty acids, hemp seeds are one of the few plant-based sources of complete protein, a type of high-quality protein that is comparable to that found in meat, fish, eggs, and dairy. And, for those who are skeptical about eating hemp seeds, the hemp seeds you find in the health food stores won't get you high!
Tip: If you have trouble finding hemp seeds in the stores, don't worry – you can always buy them online through Amazon. Or, replace the hemp seeds in this recipe with other omega-3 rich seeds such as flaxseeds or chia seeds.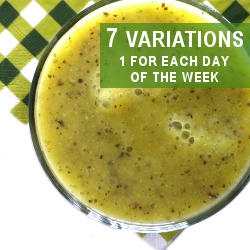 Ingredients
1 mango
1 banana (Day 1*)
1 big kiwi
1/2 cucumber
1 cup water
1 Tbsp hemp seeds [buy here]
Directions
Peel the mango, banana (if using) and kiwi. You can also peel the cucumber for a silkier smoothie, but if you want to maximize the nutrient content of your drink, leave the peel on, and only rinse the cucumber. If you are using another ingredient from the Tweak It! box below to replace the banana in the original recipe, peel and core the fruit as needed.
Remove the stone from the mango, and cut all the fruits and cucumber into large chunks. Process in a blender or food processor, together with the water, until smooth.
Pour into glasses and serve immediately. This recipes makes about 4.5 cups.
*Tweak It!
To keep your taste buds intrigued, try tweaking the basic recipe above by replacing the banana with one of the other ingredients included in the Tweak It! box below. The box contains seven ingredients, one for each day of the week.
Day 1
Day 2
Day 3
Day 4
Day 5
Day 6
Day 7
1
banana
1 cup
blueberries
1
small peaches
4
apricots
2
nectarines
1
apple
1
pear