Weekly Smoothie Challenge
Strawberry Peach Smoothie with Camu Camu Powder
Serves 2
Sweet strawberries come together with juicy peaches and tangy cranberry juice in this refreshing power-smoothie. Camu camu powder is added to the mix for an exotic twist – and an extra dose of vitamin C!
For those who are not familiar with camu camu, this South American fruit is one of the world's most concentrated natural sources of vitamin C (it contains about 40 times as much vitamin C as oranges). Thanks to its exceptionally high vitamin C content and other potential health benefits, camu camu is today available in many health food stores, but you can also buy freeze-dried camu camu powder online.
Did you know?
Camu camu powder is good for more than just smoothies. You can use it to enhance the nutritional profile of everything from baked goods to marinades to vegan ice cream. For details, check out these 10 tips on how to use camu camu powder.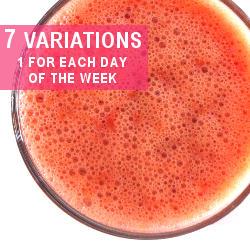 Ingredients
1 small banana
1 orange (or another ingredient from the Tweak It! box below)
3 peaches
10 strawberries
3/4 cup unsweetened cranberry juice
1/2 tsp camu camu powder
Scant 1/2 cup crushed ice
Directions
Peel the banana and orange, and rinse the peaches and strawberries thoroughly under running water. Remove the pits from the peaches.
Pour the cranberry juice into a high-powered blender, and add the other ingredients. Blend until smooth and creamy.
Pour into glasses, and enjoy immediately.
Tweak It!
Day 1
Day 2
Day 3
Day 4
Day 5
Day 6
Day 7
1
orange
1
small apple
3
apricots, pits removed
3 oz
fresh pineapple
3 oz
mango
3 oz
papaya
2
small kiwis