Recipes for Preventing Gallstone Formation
If you are interested in learning how to whip up tasty meals that can also help prevent gallstone formation, you have come to the right place! This section of HealWithFood.org's Guide to Fighting Gallstones presents healthy recipes that call for foods that are thought to be particularly beneficial for people who are susceptible to developing gallstones.
Note: The information and recipes on this website have not been verified by medical professionals for correctness. Use the information and recipes provided on this website only at your own risk.
Apple and Onion Soup
6 servings
Apples are rich in pectin, a type of dietary fiber that has been shown to stop gallstone formation. Also onions may be helpful for people who are prone to developing gallstones: according to one study, consumption of onions (and garlic) may reduce the incidence of cholesterol gallstone formation by 40%.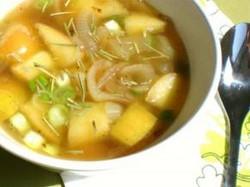 Ingredients
1 tbsp canola oil
2 medium yellow onions, sliced
1 small leek, chopped
1/2 tbsp fresh rosemary, chopped
1/2 tbsp fresh thyme
3 organic apples, cut into small dices
6 cups fat-free, low-sodium vegetable broth

Directions
Heat oil in a medium saucepan over medium heat. Add onions and sauté until golden. Pour in the broth and bring to boil over medium-high heat. Add apples, and reduce heat to medium-low. Simmer for 10 minutes. Season with salt and pepper, if desired. Ladle into soup bowls and serve.
Wholewheat Muffins with Bananas and Walnuts
Makes 6-8 muffins
Not only are these whole wheat muffins full of flavor, they can also offer health benefits for people who are at risk of developing gallstones. The walnuts featured in these muffins are packed with compounds that can help prevent gallstones. Several large-scale studies have found an association between a high consumption of nuts, such as walnuts, and a reduced risk of gallstones.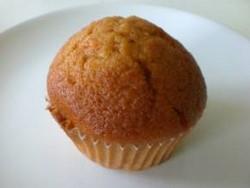 Ingredients
1 cup whole wheat flour
1/3 cup brown sugar
1/2 tsp baking powder
2/3 cup walnuts, chopped
1/4 tsp salt
2 medium bananas, sliced
1/4 cup almond milk
1 egg, lightly beaten

Directions
Preheat oven to 350°F (175°C, gas 4). Combine flour, sugar, baking powder, walnuts, and salt. In a separate bowl, mash bananas with a fork. Add egg and almond milk to banana mixture, then combine dry and wet ingredients. Pour batter into a non-stick muffin pan. Bake for 30-40 minutes, then transfer muffins to a cooling rack. Serve warm.
Apple and Carrot Salad with Goji Berries
Serves 4
Apples are rich in pectin, a type of dietary fiber that has been shown to prevent gallstone formation, while goji berries are loaded with magnesium. A large cohort study with 42,705 American men published in The American Journal of Gastroenterology found that an increased intake of supplemental and/or dietary magnesium was associated with a reduced risk of gallstones.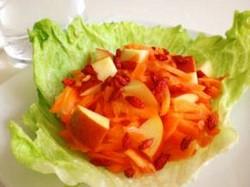 Ingredients
2 cups apples, diced
2 cups
organic carrot
, grated
1/2 cup Tibetan goji berries, soaked
8 tbsp apple juice
2 tsp fresh ginger, minced
4 tbsp extra-virgin olive oil
Lettuce leaves

Directions
Combine apple dices, carrots, and goji berries in a small bowl. Mix apple juice, ginger, and olive oil in a separate bowl and drizzle over salad mixture. Toss gently and serve on lettuce leaves.
Oat Muesli with Apples and Raspberries
4 servings
The apples and oats featured in this muesli are rich in dietary fiber which has been shown to reduce the risk of gallstone formation. A study following the eating habits of 69,000 women over a period of 16 years found that those who consumed the most fiber overall had a 13% lower risk of getting gallstones, compared to those consumed the least fiber. Ingredients
1 1/2 cups rolled oats
1/2 cup popped rice
2 tsp ground cinnamon
1 cup organic apples, diced
1 cup raspberries
3 tbsp brown sugar
Rice milk to serve

Directions
Preheat oven to 325°F (160°C, gas 3). Mix oats, sugar, and cinnamon in a bowl. Spread mixture evenly onto a non-stick baking tray. Toast oat mixture in preheated oven for about 10 minutes, stirring occasionally. Watch mixture very closely when toasting as it can burn very easily. Remove from oven and let cool. Pour into a large bowl and stir in popped rice. Divide mixture into serving bowls and top with apples and raspberries. Serve with rice milk.
Low Glycemic Raspberry Muffins
Yields 10 muffins
This muffin recipe is a must-try for those who love muffins but are concerned about the high glycemic rating of most muffins. This recipe calls for some of the lowest glycemic muffin batter ingredients, including soy flour, whole wheat flour, and raspberries. The soy featured in these muffins also delivers lecithin, a natural compound that aids in the breakdown of fat and cholesterol and may help prevent cholesterol gallstones.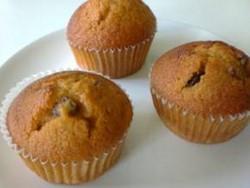 Ingredients
1 1/2 cups whole wheat flour
1/2 cup soy flour
2 tsp baking powder
1/3 cup brown sugar
2 tsp cinnamon
2 egg whites
1 cup soy milk
2 Tbsp canola oil
1 cup raspberries

Directions
Preheat oven to 375°F (190°C, gas mark 5). Combine dry ingredients in a large bowl. Whisk together egg whites, soy milk, and canola oil in a separate bowl. Add wet ingredients to dry ingredients and mix until just blended (do not over-mix). Fold in raspberries. Fill 12 paper muffin cups with batter (about two thirds full). Bake until a tester toothpick comes out clean, about 15-20 minutes.
Apple Slices with Cinnamon
Serves 1
This dessert is a cinch to prepare, and it contains only 95 calories! But the benefits of this dish do not end there: apples are packed with pectin, a type of dietary fiber that has been shown to stop gallstone formation.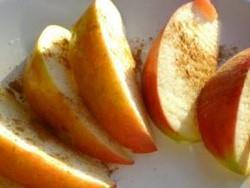 Ingredients
1 medium apple, cored and sliced
1/4 tsp cinnamon, ground

Directions
Place apple slices on a small serving plate. Sprinkle with cinnamon and serve immediately.
Buckwheat Pancakes with Bananas
Serves 2
Japanese researchers have found high protein buckwheat flour to exert strong protective effects against gallstone formation. Ingredients
1 cup buckwheat flour
1 Tbsp brown sugar
2 Tbsp potato starch
1/2 tsp salt
1 tsp baking powder
1 cup rice milk
2 Tbsp canola oil
Vegetable cooking spray, for frying
2 large bananas, sliced
Brown rice syrup, to serve

Directions
Combine dry ingredients in a medium bowl. Add rice milk and canola oil, and whisk until well combined. If batter seems very thick, you may want add a little extra rice milk or water. Preheat a large nonstick skillet over medium heat. Spray with vegetable cooking spray. With a ladle, pour batter to the size you prefer. Even out batter on skillet with back of a spoon. Cook pancake on medium high heat for a few minutes until bubbles appear. Flip over and continue frying until cooked (a properly cooked pancake appears dense and not sticky when cut in the middle).
Continue

You may also be interested in exploring other sections of this online Guide to Gallbladder Health, such as the home page which provides general information on how to improve gallbladder health and fight gallstones naturally or the diet section which provides 6 Diet Tips for Preventing Gallstone Attacks. Be also sure to check out the list of good foods for gallstone prevention.