Weekly Smoothie Challenge
Blueberry Spinach Mango Smoothie with Chia Seeds
Makes 2 to 3 big smoothies
All of the key ingredients in this super-healthy smoothie – including spinach, mango and blueberries – are packed with health-boosting compounds. The health benefits of spinach are often attributed to the high levels of carotenoids and folate this unsung superfood contains, while fresh mango is loaded with vitamin C. Blueberries, on the other hand, are packed with anthocyanins, flavonoid pigments that are known for their very strong antioxidant properties. Research suggests that the antioxidant prowess of wild blueberries are even stronger than the antioxidant properties of their cultivated counterparties, so for this health-boosting smoothie, we suggest you look for wild blueberries in the freezer section of your supermarket (if you can't find them, then go for frozen organic blueberries instead).
The potential health benefits of this super-smoothie are further boosted by the addition of chia seeds which are considered one of the best plant-based sources of omega-3 fatty acids.
Note that the original Blueberry Spinach Mango Smoothie recipe below uses fresh oranges for added fruity flavor (and vitamin C), but you can also replace the oranges with other fruit. For ideas and inspiration, check out the Tweak It! box at the end of the recipe.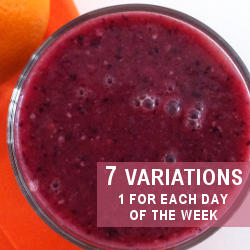 Ingredients
1 small mango
1 small banana
2 small oranges (or another ingredient from the Tweak It! box below)
3.5 oz wild blueberries, frozen
3/2 cup young spinach leaves
1 cup water
2 Tbsp chia seeds [buy chia]
Directions
Peel the mango, banana and oranges, and remove the stone from the mango. Rinse the frozen berries and spinach leaves under cold running water. If you are using another ingredient from the Tweak It! box below to replace the oranges, rinse, peel and core the fruit as needed.
Cut all the fruit into large chunks, and place them in a blender, together with the blueberries, spinach leaves and water. Add the chia seeds, and whirl until the smoothie is nice and creamy.
Pour the blend into tall glasses, and serve immediately. This recipe yields about 4.5 cups.
Tweak It!
To keep things interesting, tweak the original Blueberry Spinach Mango Smoothie recipe above by replacing the oranges with one of the other ingredients included in the Tweak It! box below. The Tweak It! box contains seven ingredients, one for each day of the week!
Day 1
Day 2
Day 3
Day 4
Day 5
Day 6
Day 7
2
oranges
1
large apple
4
apricots, pits removed
3
peaches
3 oz
fresh pineapple
3 oz
dragonfruit
3 oz
papaya