Gluten-Free, Vegan Cookbook with Nutritional Information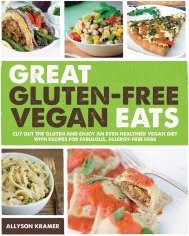 In her debut cookbook Great Gluten-Free Vegan Eats, recipe developer and food photographer Allyson Kramer serves up a collection of recipes for gluten-free, egg-free and dairy-free dishes that are sure to please. Available both as a regular paperback and a Kindle e-book on Amazon.com, Amazon.co.uk and Amazon.ca, this extraordinary cookbook is packed with gluten-free, vegan recipes that are accompanied with gorgeous color photographs and nutritional information to give you an idea of the calorie and nutrient content of the dish. To learn more, keep reading.
Great Gluten-Free Vegan Eats by Allyson Kramer
Allyson Kramer is a cookbook author, recipe developer and food photographer who really knows how to make gluten-free, vegan food taste (and look) great. Her work has been featured in well-known publications like The Huffington Post, Vegetarian Times and VegNews Magazine. In her debut cookbook, Great Gluten-Free Vegan Eats, Kramer delivers 101 mouthwatering gluten-free recipes that are also free from eggs and dairy, as well as other animal-derived ingredients. With chapters on Breakfast Dishes; Main Courses; Salads & Soups; Appetizers, Sides & Snacks; and Desserts & Beverages, there's something here for any time of the day. Still need convincing? How do these sound:
Almond Butter Cups
Spinach Artichoke Dip
Lemon Roasted Leeks
Banana Bread Scones
Coconut Asparagus Soup
Deli-Style Chickpea Salad
Chocolate Swirl Avocado Gelato
Stuffed Cabbage Rolls
Vanilla Bean Ice Cream
Rosemary, Leek and Potato Pie
In addition to providing 101 mouthwatering recipes accompanied with stunning photographs, this 200-plus page guide and cookbook provides plenty of information, tips and tools to help you embrace a gluten-free lifestyle. For example, there's a section titled Gluten-Free Flour Guide which contains a handy overview of Kramer's favorite gluten-free flours including almond meal, brown rice flour, buckwheat flour, chickpea flour, cocoa powder, cornstarch, masa harina, xanthan gum, millet flour and potato flour. Kramer prefers homemade gluten-free flour blends over pre-packaged mixes, so if you are planning on using this cookbook a lot, you might want to consider stocking your pantry with the above-listed flours.
Another section, titled Vegan Substitutes Guide, provides a handy reference guide for people who are new to vegan eating and wondering what can be used in place of eggs and dairy. In this section, you'll learn, for example, how to use apple cider vinegar, applesauce, bananas, tofu or flaxseed meal to replace eggs in recipes, or what to use as substitutes for cow's milk and cheese.
What's also great about this gluten-free, vegan cookbook is that the recipes included are accompanied with nutritional information. The Nutritional Analysis box at the end of each recipe provides the following information (per serving):
Calorie count
Amount of fat
Amount of protein
Amount of carbohydrates
Amount of dietary fiber
Amount of cholesterol
Who Should Get This Cookbook?
Kramer's debut cookbook, Great Gluten-Free Vegan Eats, is a great option if you are looking for a gluten-free, vegan cookbook that includes nutritional information on the recipes it contains. With its innovative, scrumptious recipes and gorgeous full-color photographs, this book also makes an attractive gift, not only for gluten-eschewing vegans but for anyone interested in creating tasty, nutritious meals and snacks made with real, natural ingredients. To snag a copy of this fascinating guide and cookbook, head to Amazon.com, Amazon.co.uk or Amazon.ca.
Sponsored Links / Ads
You May Also Like

Spirulina - A Good Source of Vitamin B12...or Not?
What you should know about the vitamin B12 content of this blue-green algae.
More Cookbooks & Recipes